Your Spiritual Revolution is a Spirituality and Health Magazine which  gives clarity on different questions like Religion or Spirituality? What is Enlightenment? Is Immortality possible? Who am I? Where is God? What is Gaia consciousness? What is the purpose of this universe? What is the purpose of my life? What is the Law of Karma? How to create and manifest my own destiny? What is astral travel? What is meditation? What is yoga? What is aura? What is a miracle? What is spiritual evolution? How can we attain holistic health and wellness? How to leverage the power of dreams?
This November Issue is a general issue, without a particular theme, offers a multidimensional and multimedia mix of contributions, touching interconnected topics. Topics like Raising An Enlightened Child, A Call to the Keepers of Earth's Wisdom and Peace, Who Am I?, Everything is Spiritual, Meditation is a Practice of Dying, Awakening through the Shadows, The Vegan Dilemma, The Prediction, and many more has been covered in the November 2017 Issue.  Spirituality helps in living happily in our day to day life also.
The future of humanity and the planet will be shaped by how our children grow up and evolve to manifest the infinite potential of their Being. The cover story by intuitive mystic and international talk show host Rev. Rhonda Sheryl Lipstein discusses creative and soulful ways to raise an enlightened child. Rev. Roni has also shared a video of her talk on the silent expression of our Beingness through the 'Art of Fashion.'
The November issue consists of excerpts from different spiritual leaders like Lekshmy Rajeev, Dr. Joyce Kovelman, Steph Harper, Dr. Glenys , Dr. Anya Light, Dr. Margo Kirtikar and many more.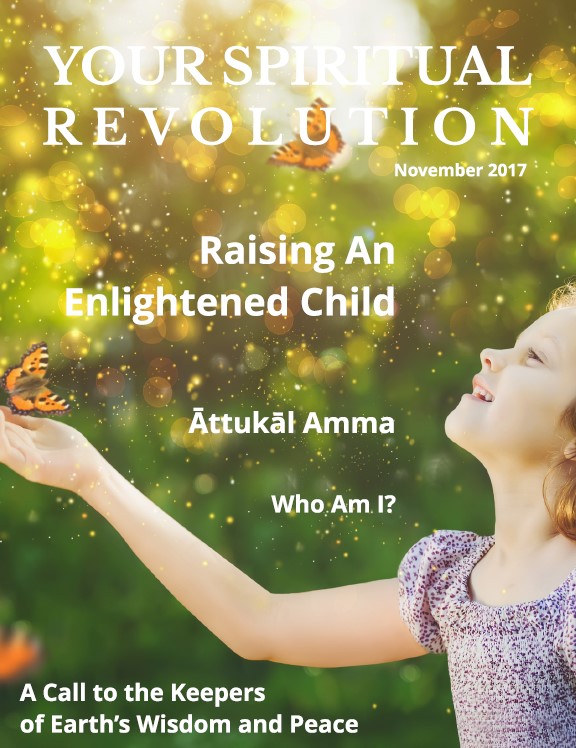 Contents of the November 2017.
RAISING AN ENLIGHTENED CHILD: A belief is a State of MIND…an AWEsome, PowerFull tool of manifestation, and sadly, one of the most unrecognized means of living life as intended to BE, fulfilling our dreams and BEing Happy. A State of Mind can change your entire life! People have been conditioned to look outside of themselves for acknowledgement, affirmation, and LOVE, and this has been the foundation of our greatest destruction.Teaching our children to look within SELF to KNOW that there is nowhere else they need search to find that which is their magnificence, is to 'raise an enlightened child.' Click here to read more.
Who Am I?  Who am I? I often ask myself.Am I a Christian, Hindu, Muslim, Buddhist, Sikh … ??? The list is endless. For, there are many religions in this world and I could belong to any one of them – all of them; or none of them.Considering that my soul is several million, perhaps billions of years old; having traveled through various places, regions, and countries at different times and countless millennia, God only knows how many religions touched my soul in my many lifetimes. Click here to read more.
Everything is SpiritualI still remember the startled reaction of a journalist friend several years ago, when I told him that I considered myself spiritual. He remarked in surprise, "What? Are you nuts? Spirituality is something that some people pursue after they retire! You are still in the prime of your life. Don't waste your whole life by renouncing the worldly life now!" I smiled and replied, "I am spiritual, but I didn't say that I'd go to the Himalayas to become a monk!" I can never forget the puzzled expression on the face of my friend that day. Click here to read more.
Awakening through the Shadows:

The Visible and Invisible Worlds, are both very real, but experienced and expressed in different ways. We only understand our worlds through the        perception of contrast. We are found in between these two worlds, in response to the ever changing universal energy, the yin and yang, that come together to form the dance of life. We    only know Enlightenment exists because we have suffered.

Click here

to read more.