Description

Why you should get Amethyst Tumble Stones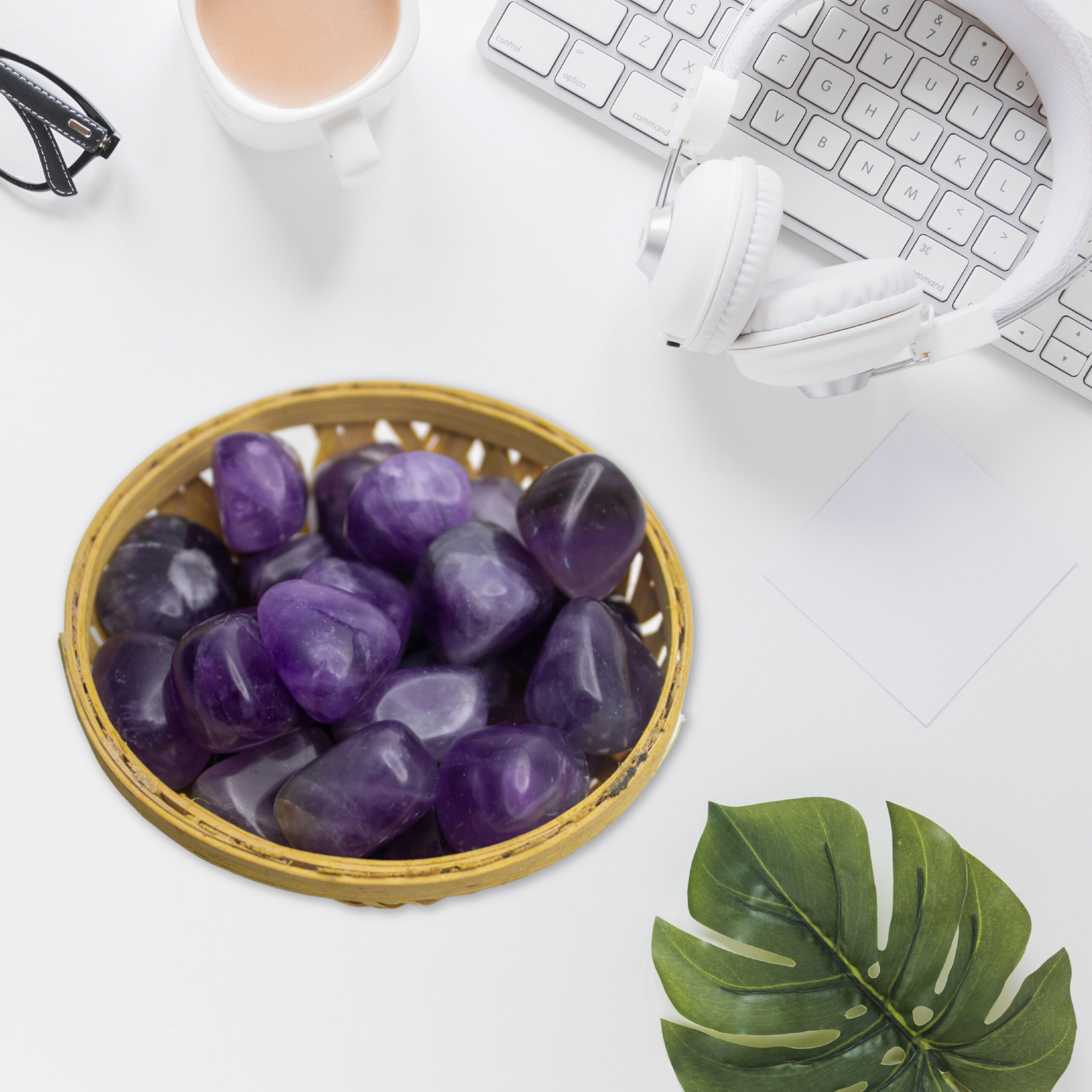 The magic crystals serve as the perfect decorative items for home decor, and table decor as it removes negative energy and increases wealth.

Keeping it at home will also help to promote peace, restful sleep, meditation, increase concentration, and bring stability. 

If you are looking to bring balance and heal your home and surroundings, get this beautiful healing crystal that will instil harmony and balance in mind, body & soul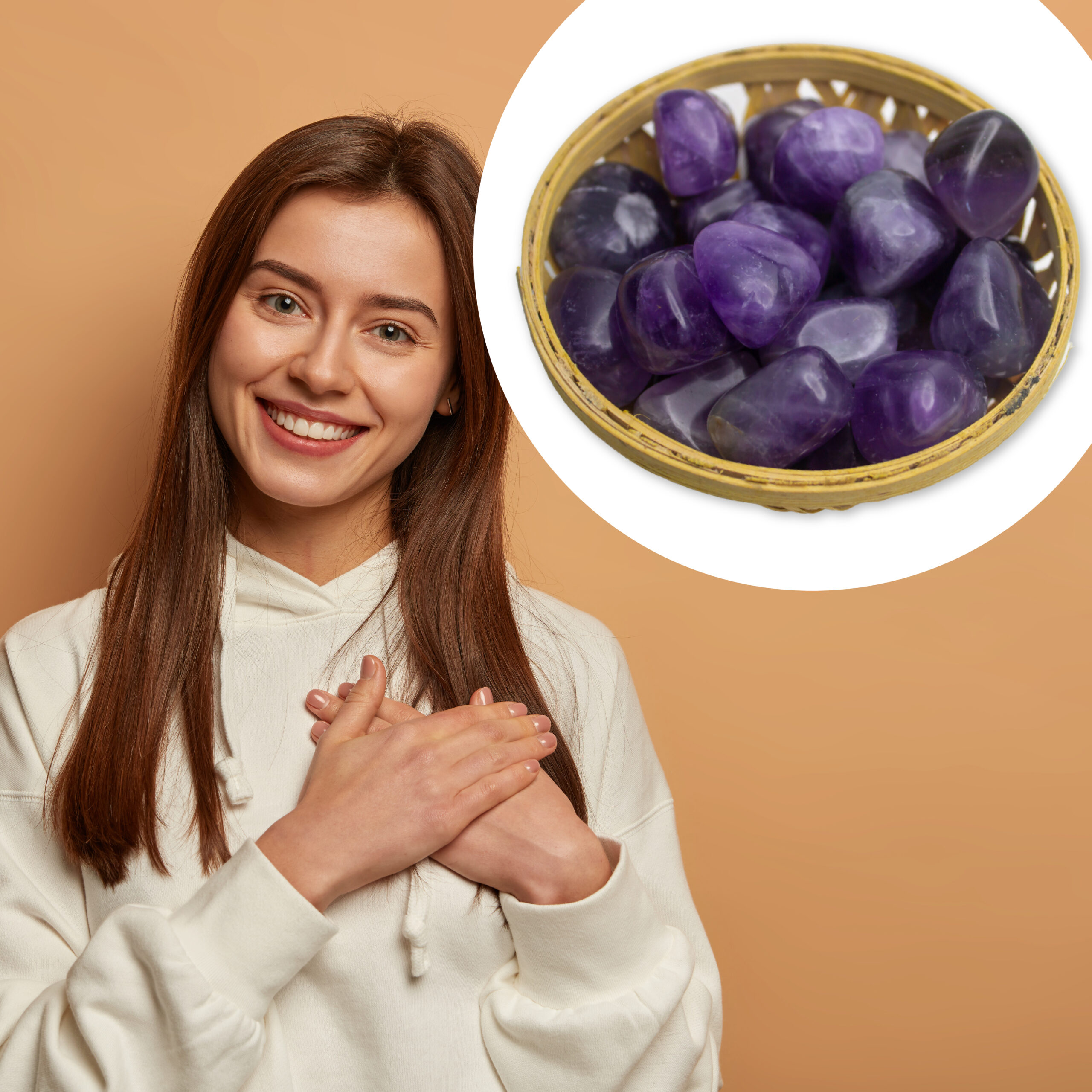 Energy and vibrations surround us all, both good and evil. We are drained and obstructed by negative feelings and poisonous energy.

Those harmful energies will be eliminated and blocked by the amethyst. It will purify your aura, allowing only positive energy to enter.

Get this beautiful healing tumble stone to bring balance and healing to your life. It will instil positive energy, calm, and harmony. It creates a relaxing and peaceful environment that promotes one's overall well-being.
Better Sleep & Well-being
The natural amethyst tumble will assist in stress relief, anxiety reduction, and mind, body, and soul harmony.

All physical, emotional, mental, and spiritual concerns can be helped by the strong amethyst. It will boost your overall happiness.

The amethyst tumble, which is very beneficial for improving sleeping patterns, emits a serene and peaceful aura that helps in relaxing.It cleanses the aura with vivid energy and provides a good night's sleep.
According to Feng-Shui, the amehtyst tumble stones are used as remedies in old Chinese traditions to remove negative energy.

According to Vastu, it plays a vital role in harmonizing the mind, body, and soul. Protect & purify your home with this divine crystal. 
Get this for Vastu correction, reiki healing, and instil peace, harmony, and positivity.
This thoughtful gift will rejuvenate one's life with the power of divine crystal.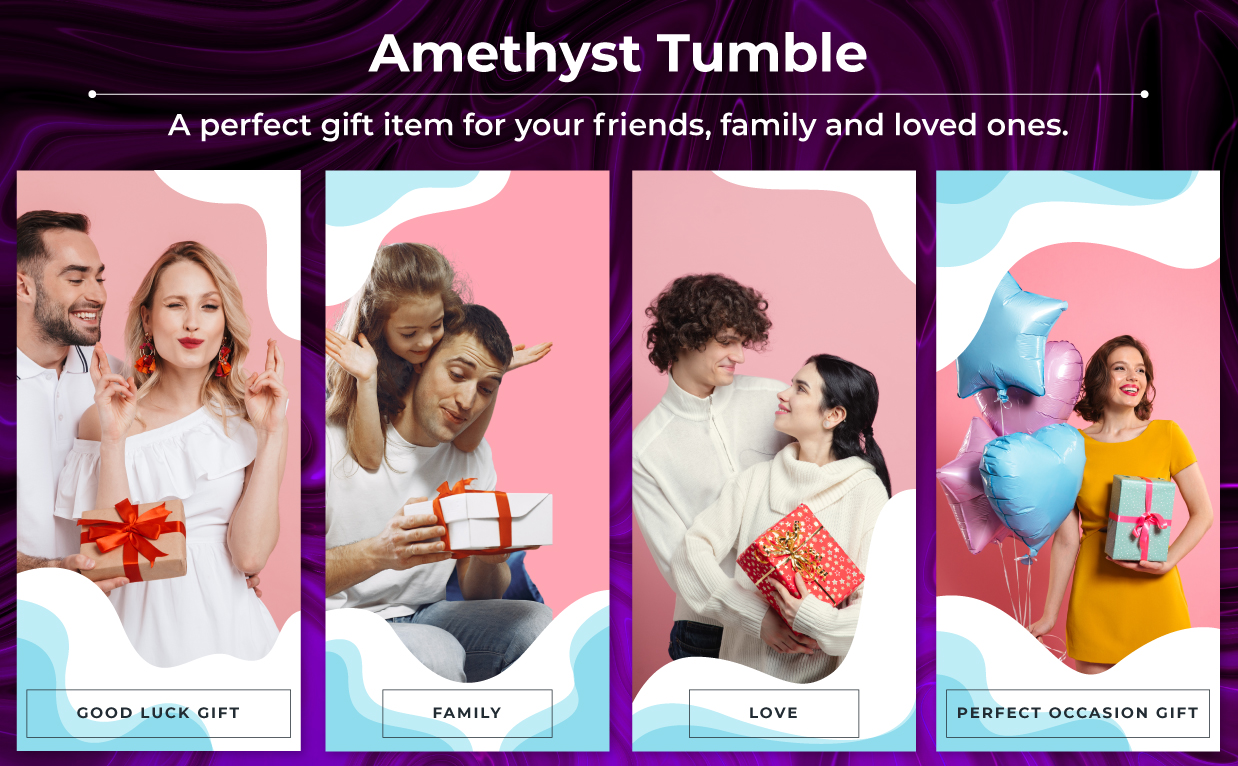 Rejuvenate your soul with the soothing & powerful energy of the Amethyst Tumble.

Bring Good Luck, Peace, Harmony and Fill your Life with Positive Energy!
How to Use:
Healing:
Amethyst carries a calm aura that helps an individual seek patience and relaxes the body, reducing anxiety. Physically, the purple stone eases the muscles and revives from pain. Known for its cleansing ability, Amethyst heals the body, which helps open the blocked chakras. From stress relief and balancing other emotional imbalances, Amethyst also focuses on maintaining physical attributes and health. 
Stress & Anxiety:
The divine Amethyst channels energy that nourishes the soul from within. It takes away stress, anxiety and tension by inducing positive vibes. The crystal can help draw away negativity and unwanted energy by cleansing the aura with powerful vibrations. Amethyst is used by healers for centuries to heal and harmonise mind, body and soul. 
Good Sleep:
The Amethyst crystals are known for their soothing and relaxing energising vibes. The purple stone is enriched with energy that can provide relief from sleeplessness. It clears the mind from unwanted chatter and induces strong vibration for deep sleep. Place the Amethyst Tumble Stones in your bedroom and improve your sleeping patterns. 
Meditation:
Using the tumble crystals and stones during meditation practice can help improve focus and create a serene atmosphere. The crystals will eliminate negative energy. Its highly energising power will also magnify the healing effect and bring desired results. 
Chakra Healing:
Amethyst resonates with the Third Eye Chakra and Crown Chakra. It can help channel energy that can open a person's third eye. The third eye is connected to spiritual enlightenment and greater wisdom. The tumble stones  can help remove blockages from the chakra and allow the free flow of vibrant energy to enter. 
Manifestation & Visualization:
You can use crystals and tumble stones for manifestation. Using it with affirmations can help you attract your desires as its energy can magnify your goals and send them out into the universe. Place the crystal near you or hold it in your hand to set intentions, visualize and affirm them to achieve desired results. Release all the tension in your body and try to be present at the moment. You can start by visualizing your best or higher self. It is best to speak out the affirmations out loud once you are completely focused and ready to manifest.
Cleansing Amethyst Gemstones:
Crystals contain enormous energy that rejuvenates our mind, body, and soul. However, when too much negative energy gets stored in the crystal, it starts concealing the positive vibrations of the crystal. So, it is necessary to cleanse the crystal to keep its energy pure and vibrant.
Water is the best way to neutralize all the negative energies stored and return the crystal back to its natural state. Make sure to use clean water and let the stone immerse in it completely–& pat it dry once you're done. 

Leaving Amethyst under the light of the full moon or in sunlight will help the crystal get charged and clear away old energies. 

You can also use Selenite crystal to charge & cleanse your crystals. When crystals are placed with Selenite, this versatile stone takes away their negative energy by inducing positive energy in them, and then it automatically cleanses itself.
Note:
These are natural stones, so their colour, shape and sizes vary and sometimes there are holes in them. Also, there are grains inside the stones which look like cracks, but these are natural.