Description

Why you should wear Citrine Bracelet: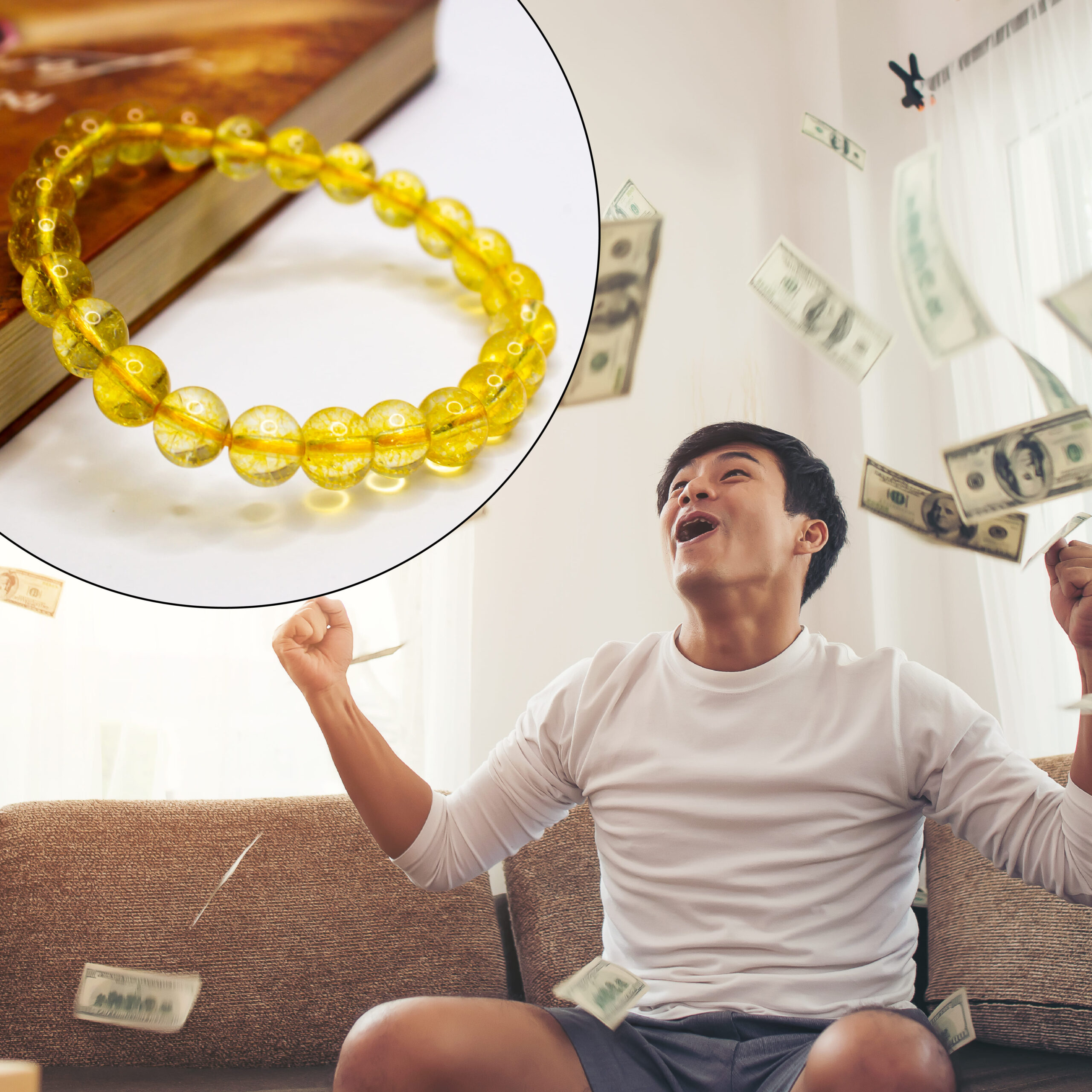 The luckiest of all crystals,

Citrine

acts as a money magnet as it attracts good luck, fortune and wealth.

The natural crystal bracelet helps to manifest success, growth, and abundance and also brings good opportunities.

The crystals and gemstones are used for centuries to attract money, prosperity and power.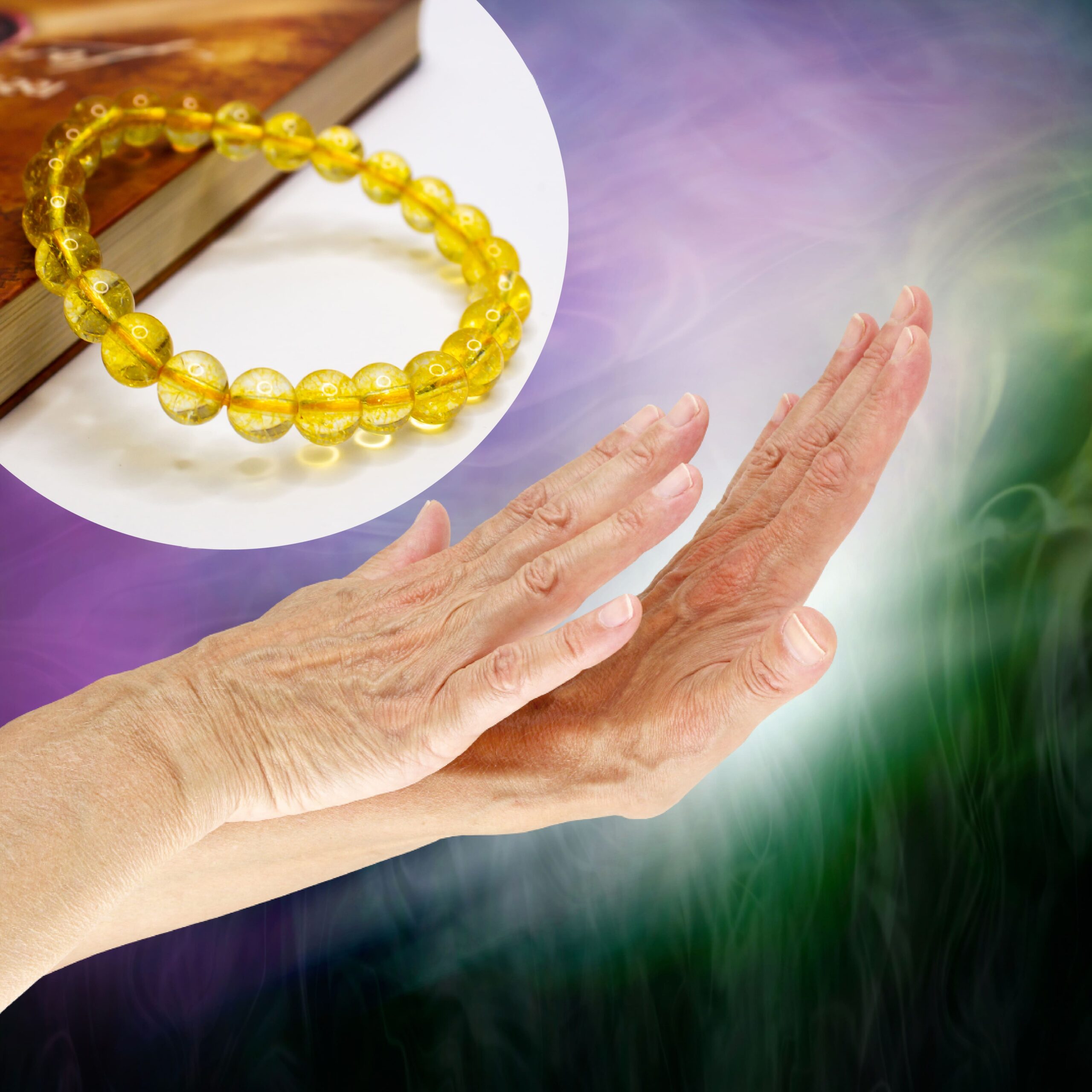 We are all surrounded by energies and vibrations; good and bad. The bad vibes and toxic energies drain us and block our path.

The gemstones will eliminate and block those negative energies. It will cleanse the aura around you; allowing only good vibes to enter.

Wear this beautiful crystal bracelet and let the positive energies flow around you freely.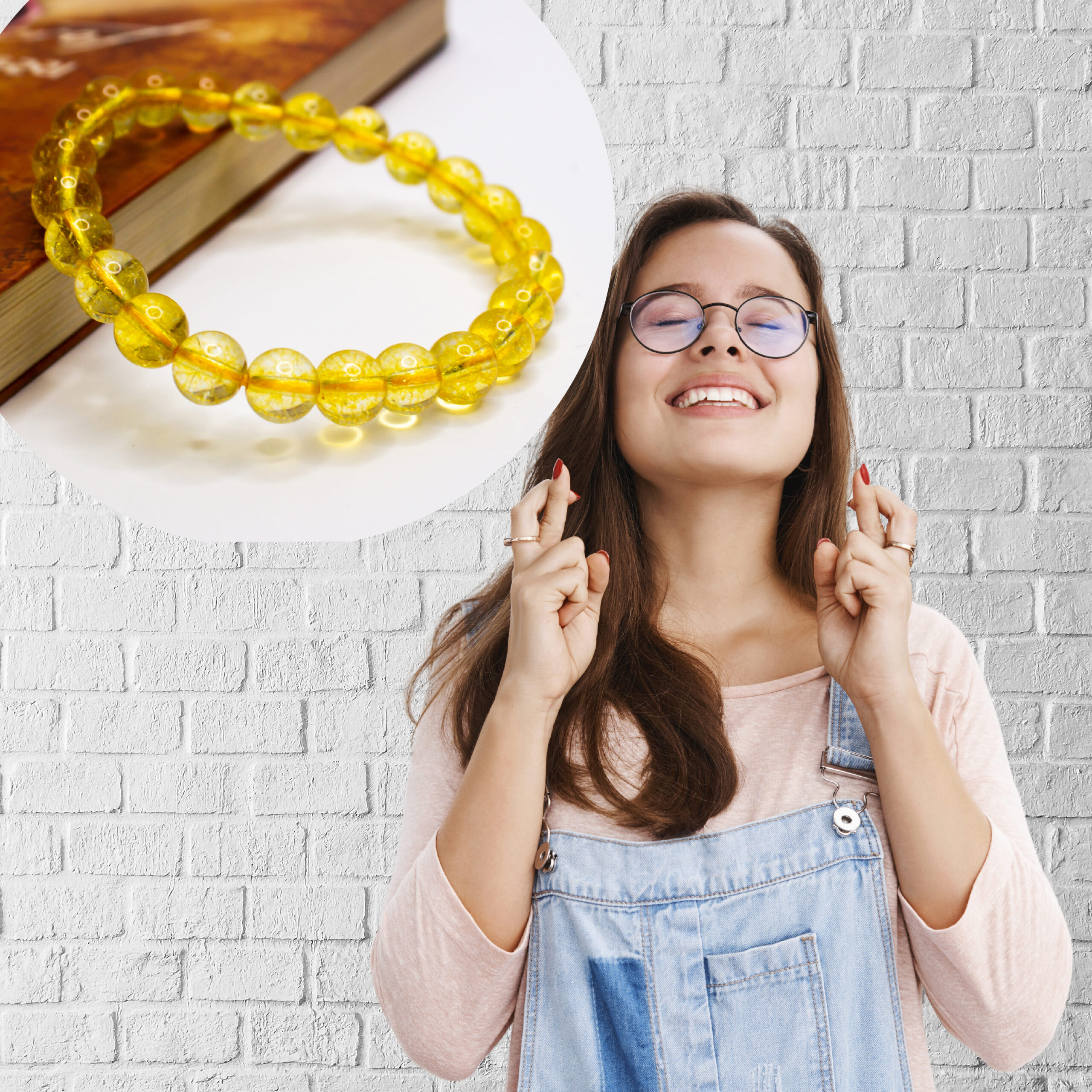 The yellow natural beads bracelet brings Goodluck, wealth and abundance. This lucky stone will pour in money, wealth and bring huge opportunities.

It stabilizes your path and helps you to move forward. Experience life-changing shifts and joyful abundance by wearing this bracelet and invite positive energies to flow in.

The crystal beads attract money and keeps the flow of money going.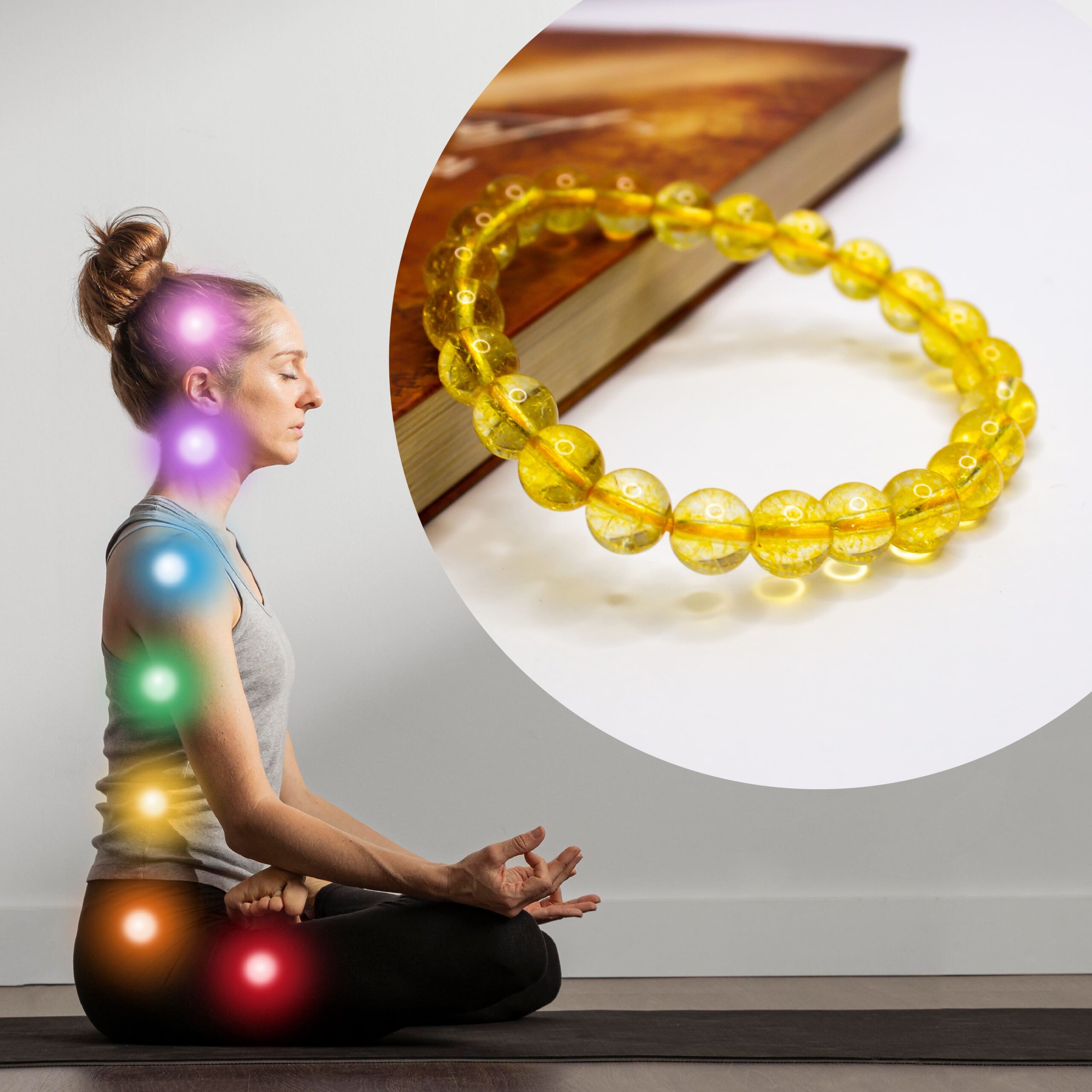 Balances & Aligns Chakras
Due to imbalance in chakras, we encounter stress & negativity resulting in the mind, body, and soul.

The yellow coloured citrine bracelet when kept close balances your Solar Plexus and Sacral chakras that brings creativity, passion and motivation to focus on your goals and desires.

Wear this bracelet to harmonies your mind and body and experience spiritual alignment.
Rejuvenate your Mind, Body & Soul with the Powerful Healing Properties of the Citrine Bracelet.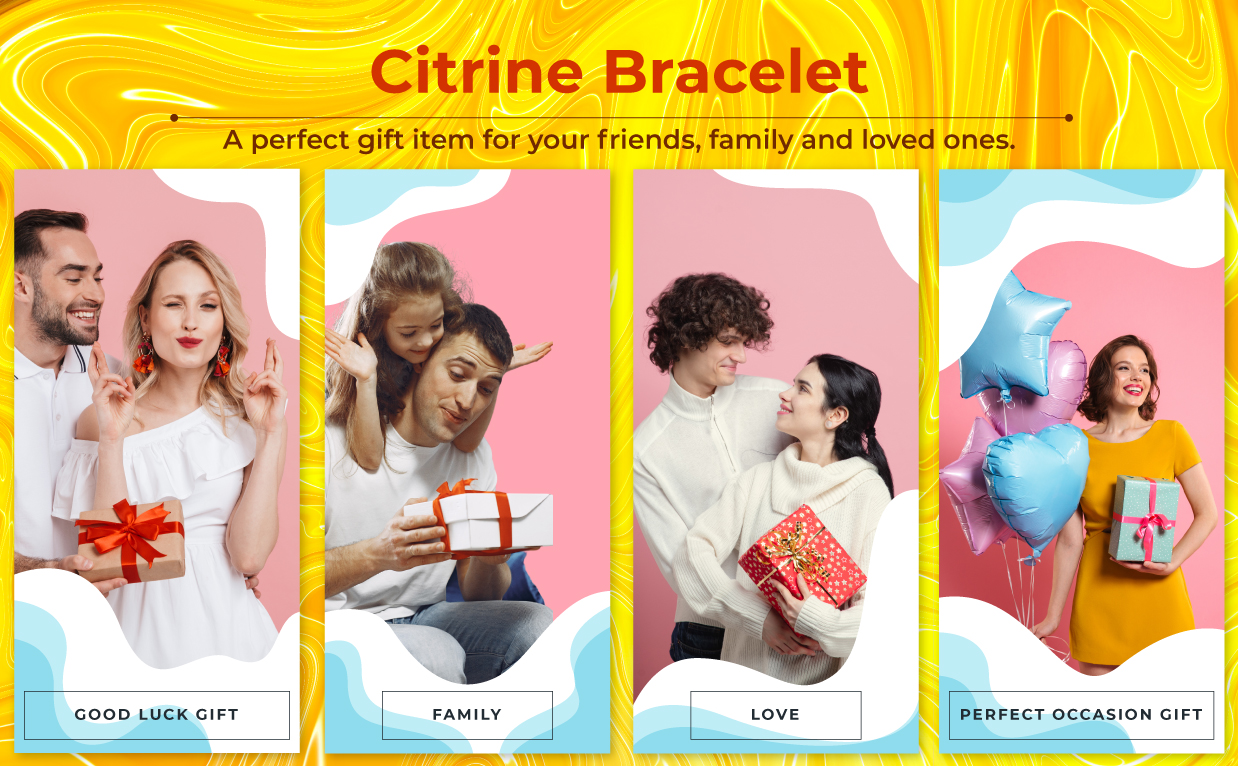 The vibrant Citrine healing gemstones are fueled with solar healing energies. The beautiful crystals are known as money stones as they attract wealth and fortune. Get this bright and striking bracelet and pave the way for joy, growth, and success. These natural healing stones are blessed with a bright energy that can't hold on to negative energies. It has the ability to heal emotional, mental & physical imbalances. Citrine owes its color to the sun & hence is acknowledged as the crystal that fights blockages with solar energy.
Wearing a Citrine crystal bracelet is a great way to balance your chakras as the stone touches our body and remains close to us. It will open your solar plexus chakra, boost your immune system and enhance your creative side. It also attracts good luck, money, and prosperity. The crystal beaded bracelet is a must-have accessory. Apart from various healing benefits, this elegant bracelet will match all your outfits and can be worn on any occasion. It will not only protect you from negative energy but also enhance your look with its stylish design and beauty of natural crystals.
Citrine crystals entice wealth, abundance & prosperity. Also known as 'merchants stone', this healing crystal is often used to attract money & success. This healing crystal reserves the ability to heal emotional, mental & physical imbalances. It reverses the negative energy by degenerating toxic ailments. Citrine owes its color to the sun & hence is acknowledged as the crystal that fights blockages with solar energy. It brings health, wealth, delight, enthusiasm & everything that keeps a heart & soul happy.
Cleansing Citrine Bracelet:
Crystals contain enormous energy that rejuvenates our mind, body, and soul. However, when too much negative energy gets stored in the crystal, it starts concealing the positive vibrations of the crystal. So, it is necessary to cleanse the crystal to keep its energy pure and vibrant.
Water is the best way to neutralize all the negative energies stored and return the crystal back to its natural state. Make sure to use clean water and let the stone immerse in it completely–& pat it dry once you're done.

Leaving gemstones under the light of the full moon or in sunlight will help crystals get charged and clear away old energies.

You can also use Selenite crystal to charge & cleanse your crystals. When crystals are placed with Selenite, this versatile stone takes away their negative energy by inducing positive energy in them, and then it automatically cleanses itself.
Note:
The stones used in this are natural gemstones. So the product you might receive can slightly vary from the image shown.