Description

Why you should get Green Aventurine Bracelet: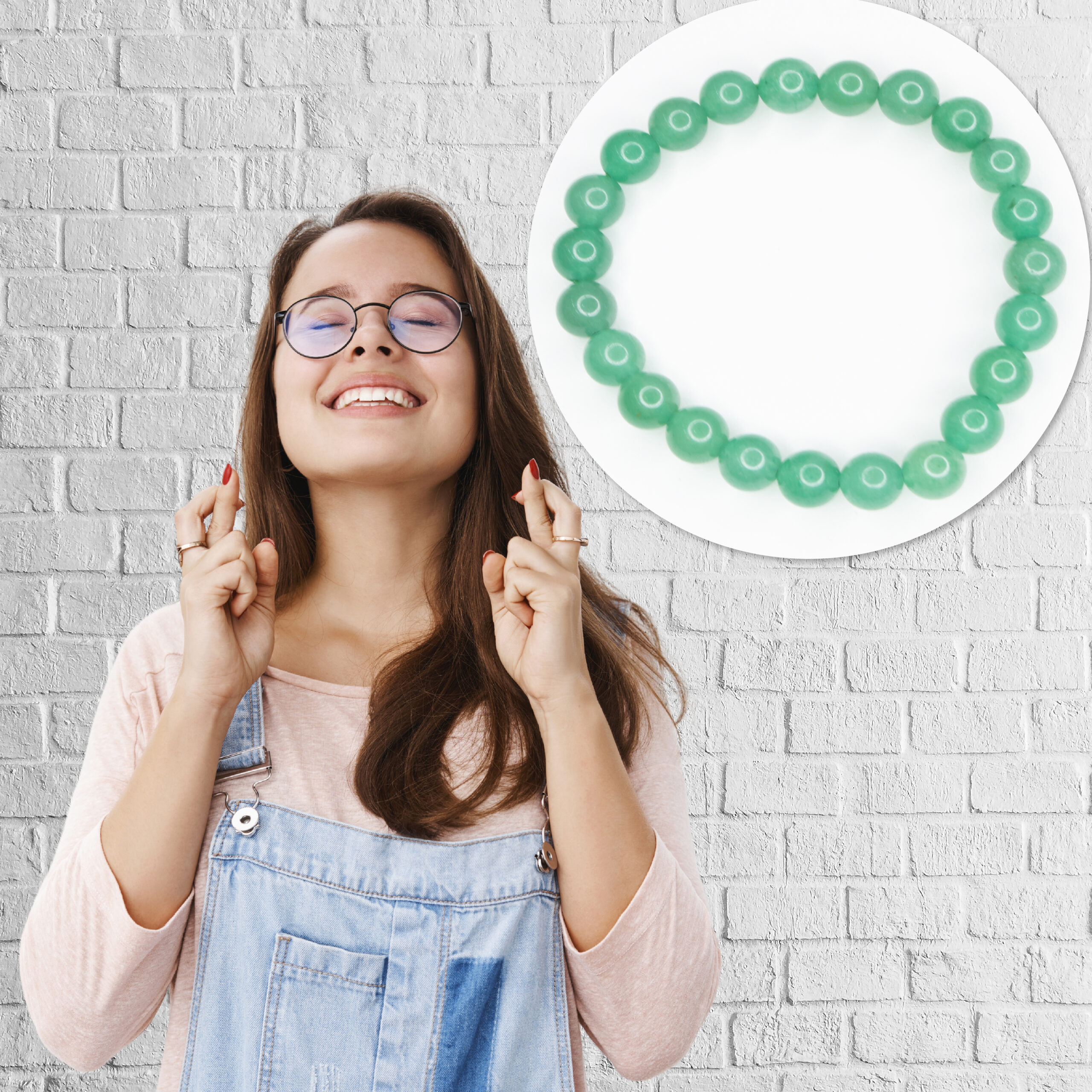 The gemstones when kept close bring good luck. The natural green aventurine crystal acts as a good luck bracelet.

The beautiful crystal bracelet is the perfect good luck item for attracting money and removing negative energy.

Wear this natural gemstone studded bracelet to radiate positive energy and attract prosperity.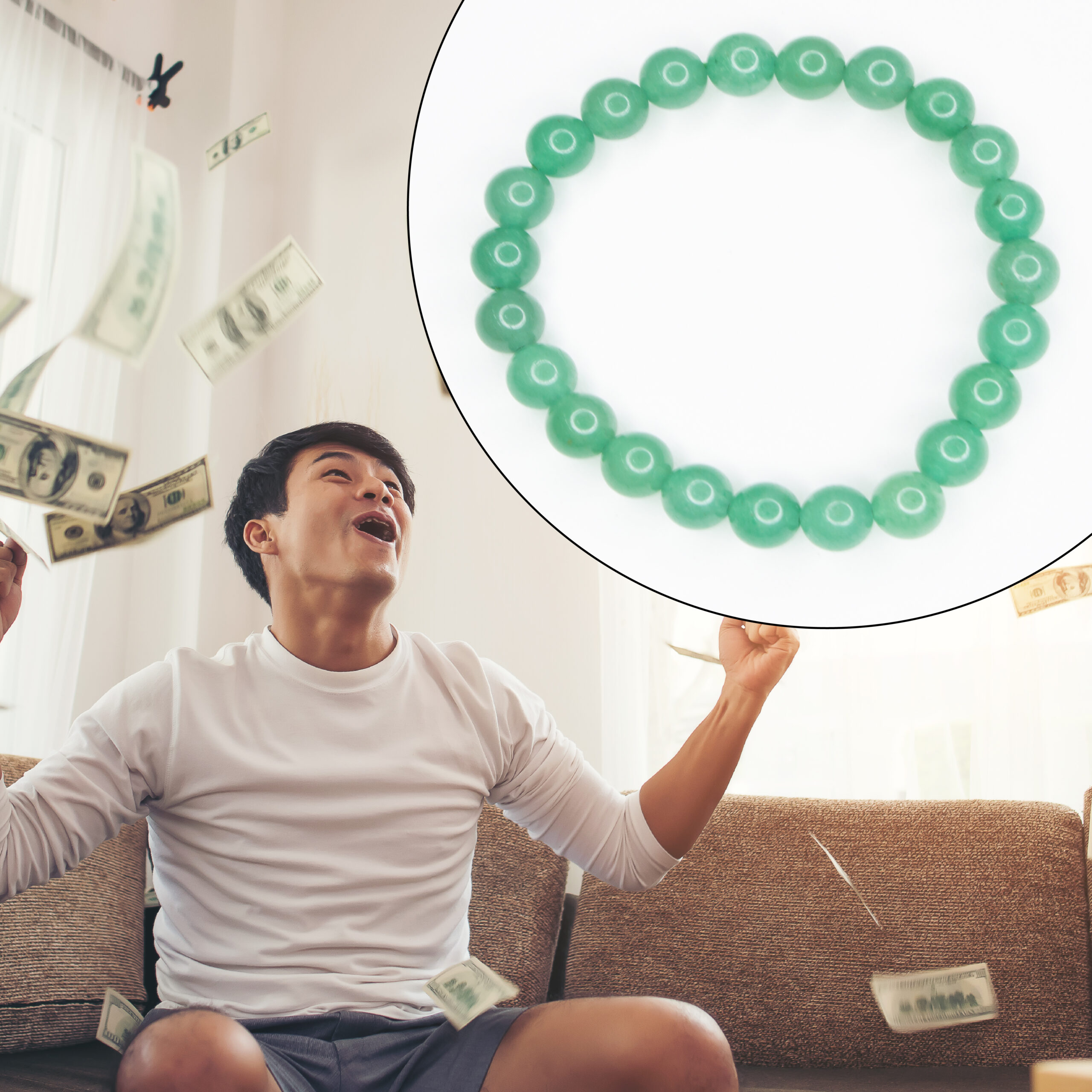 The luckiest of all crystals, green aventurine acts as a money magnet as it attracts good luck, fortune and wealth.

The natural crystal bracelet helps to manifest success, growth, and abundance and also brings good opportunities.

The crystals and gemstones are used for centuries to attract money, prosperity and power.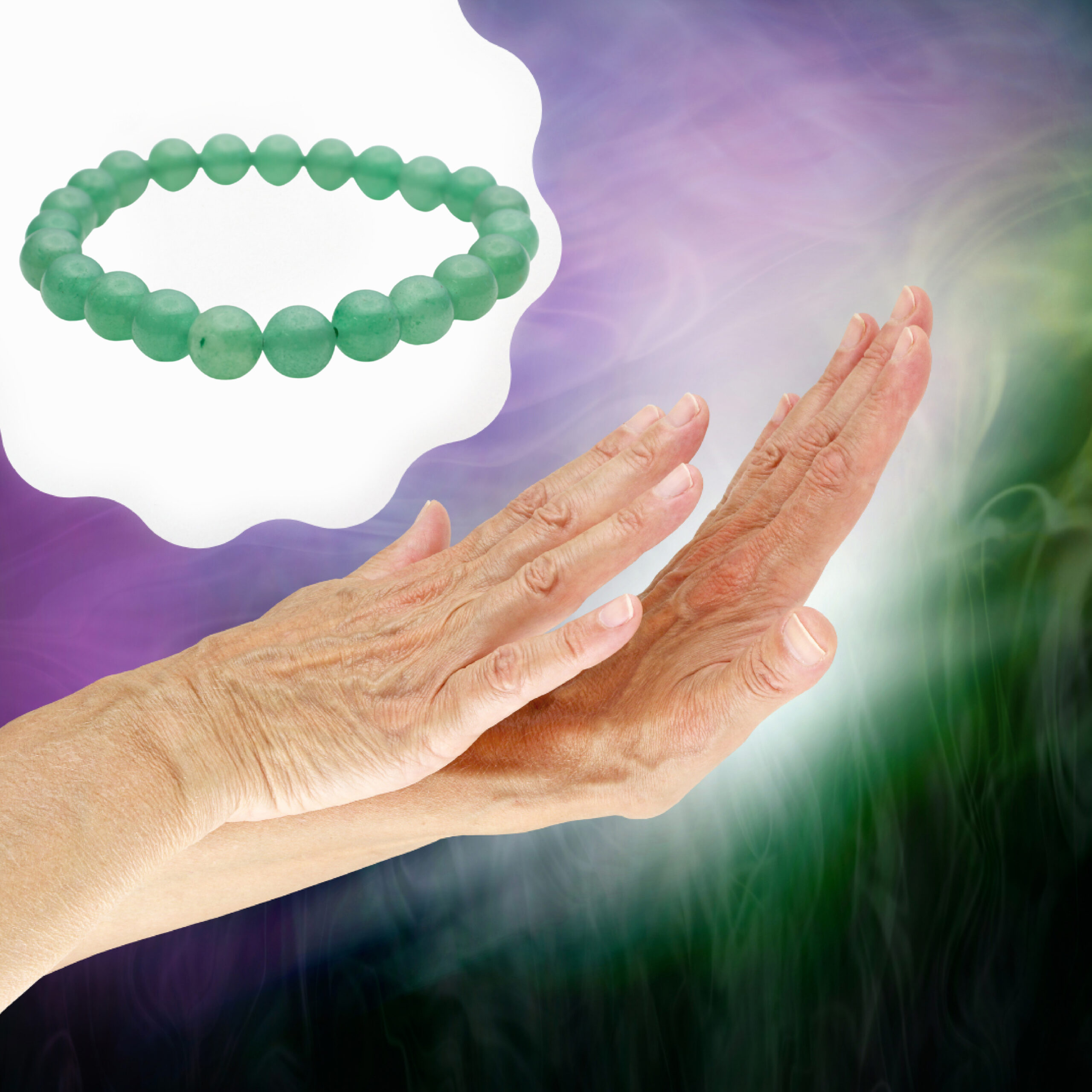 We are all surrounded by energies and vibrations; good and bad. The bad vibes and toxic energies drain us and block our path.

The gemstones will eliminate and block those negative energies. It will cleanse the aura around you; allowing only good vibes to enter.

Wear this beautiful crystal bracelet and let the positive energies flow around you freely.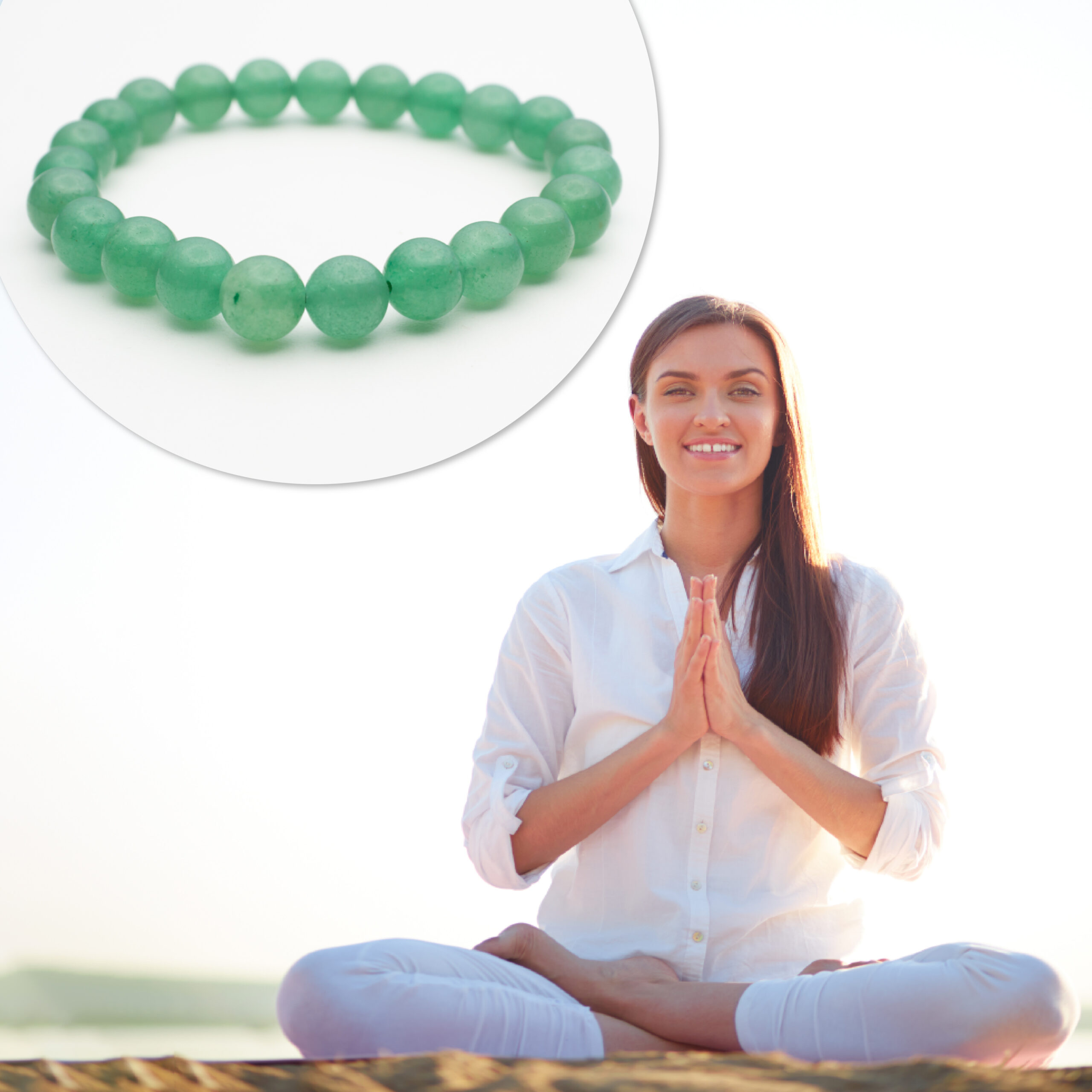 Better Sleep & Well-Being
The healing power of the crystal bracelet can help balance all physical, emotional, mental and spiritual issues.

It will eliminate negative energy and remove blockages from the chakras, balancing the mind, body and soul.

The green aventurine helps in cleansing the aura and harmonizes the soul with healing energy.
This thoughtful gift will rejuvenate one's life with the power of divine crystal.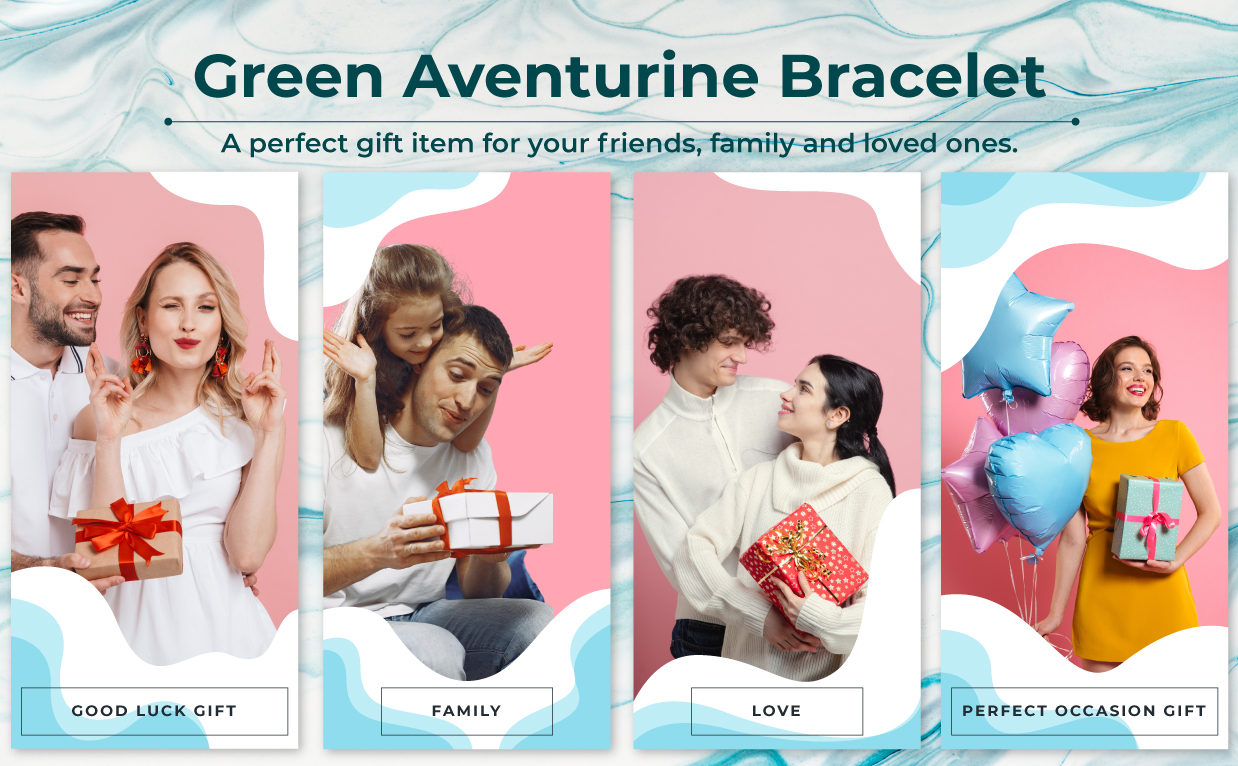 Rejuvenate your Mind, Body & Soul with the Powerful Healing Properties of the Green Aventurine Bracelet.

Wear this highly energising and purifying Green Aventurine gemstone bracelet and bring Good Luck, Money, Abundance, Success and Fill your Life with Positive Energy!
A perfect blend of beauty, grace, and fortune, these magical crystals will add charm to your life and also heal, bringing good luck and money. The green gemstones indicate money and are used to attract more wealth, money, luck, and power. Wear this beautiful gemstone studded bracelet and pave the way for abundance.
The energizing power of crystals promotes overall well-being by healing all physical, mental, emotional, and spiritual problems. It helps you achieve success, heal relationship wounds, balance your professional career, love life, and growth and also boosts immunity to pave the way for good health. Ideal for healing rituals, and meditation, it promotes peace and helps you connect to your spiritual self.
Benefits:
Attracts Wealth & Endless Opportunities

Promotes Spiritual Tranquility

Strengthens Willpower

Brings Good Luck & Prosperity

Harmonizes Mind, Body & Soul
Cleansing Green Aventurine Bracelet:
Crystals contain enormous energy that rejuvenates our mind, body, and soul. However, when too much negative energy gets stored in the crystal, it starts concealing the positive vibrations of the crystal. So, it is necessary to cleanse the crystal to keep its energy pure and vibrant.
Water is the best way to neutralize all the negative energies stored and return the crystal back to its natural state. Make sure to use clean water and let the stone immerse in it completely–& pat it dry once you're done.
Leaving gemstones under the light of the full moon or in sunlight will help crystals get charged and clear away old energies.
You can also use Selenite crystal to charge & cleanse your crystals. When crystals are placed with Selenite, this versatile stone takes away their negative energy by inducing positive energy in them, and then it automatically cleanses itself.
Note:
The stones used in this are natural gemstones. So the product you might receive can slightly vary from the image shown.