Description
Why should you get Education Support Bracelet?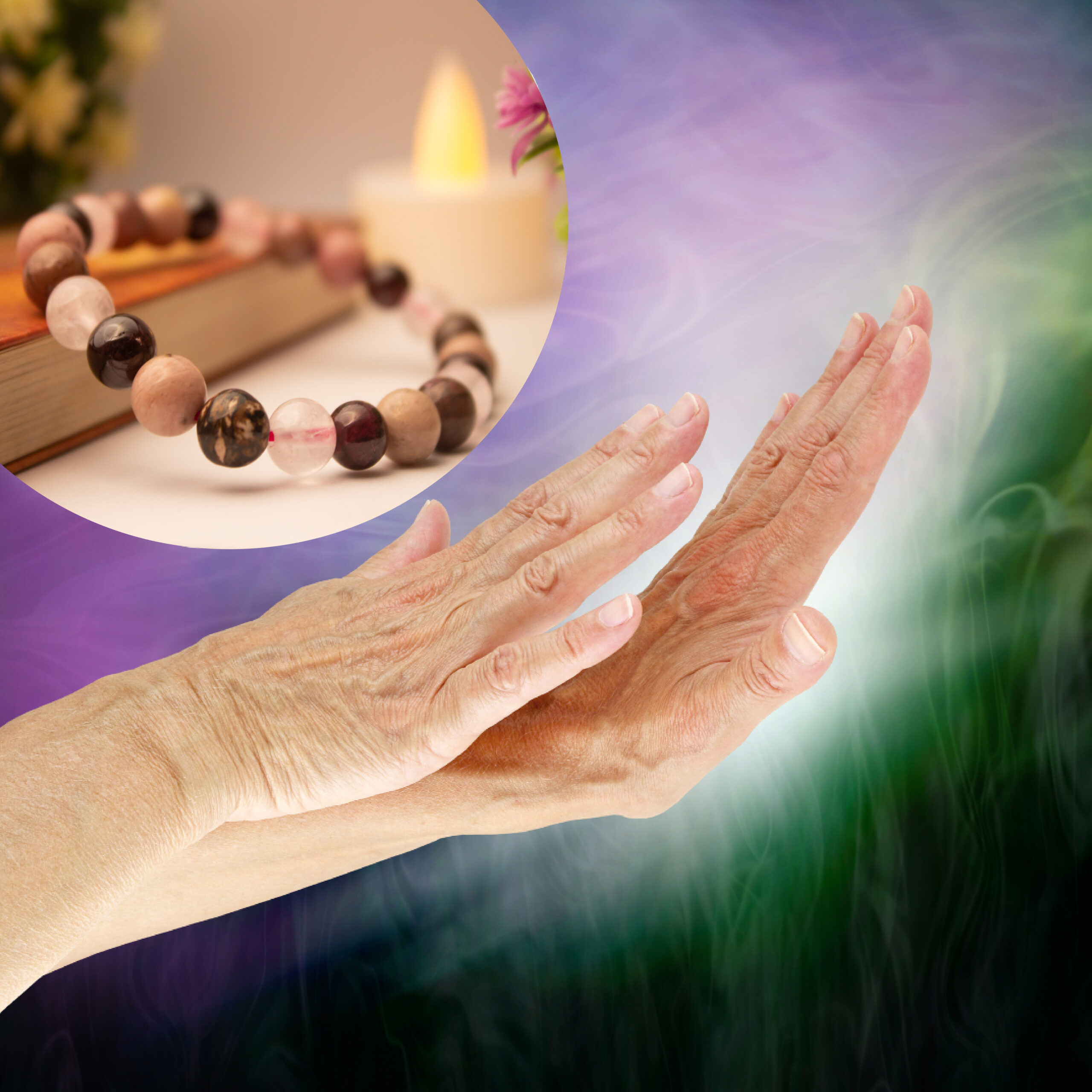 We are all surrounded by energies and vibrations; good and bad. The bad vibes and toxic energies drain us and block our path.

The gemstones will eliminate and block those negative energies. It will cleanse the aura around you; allowing only good vibes to enter.

Get the vibrant gemstone bracelet and let the positive energies flow around you freely.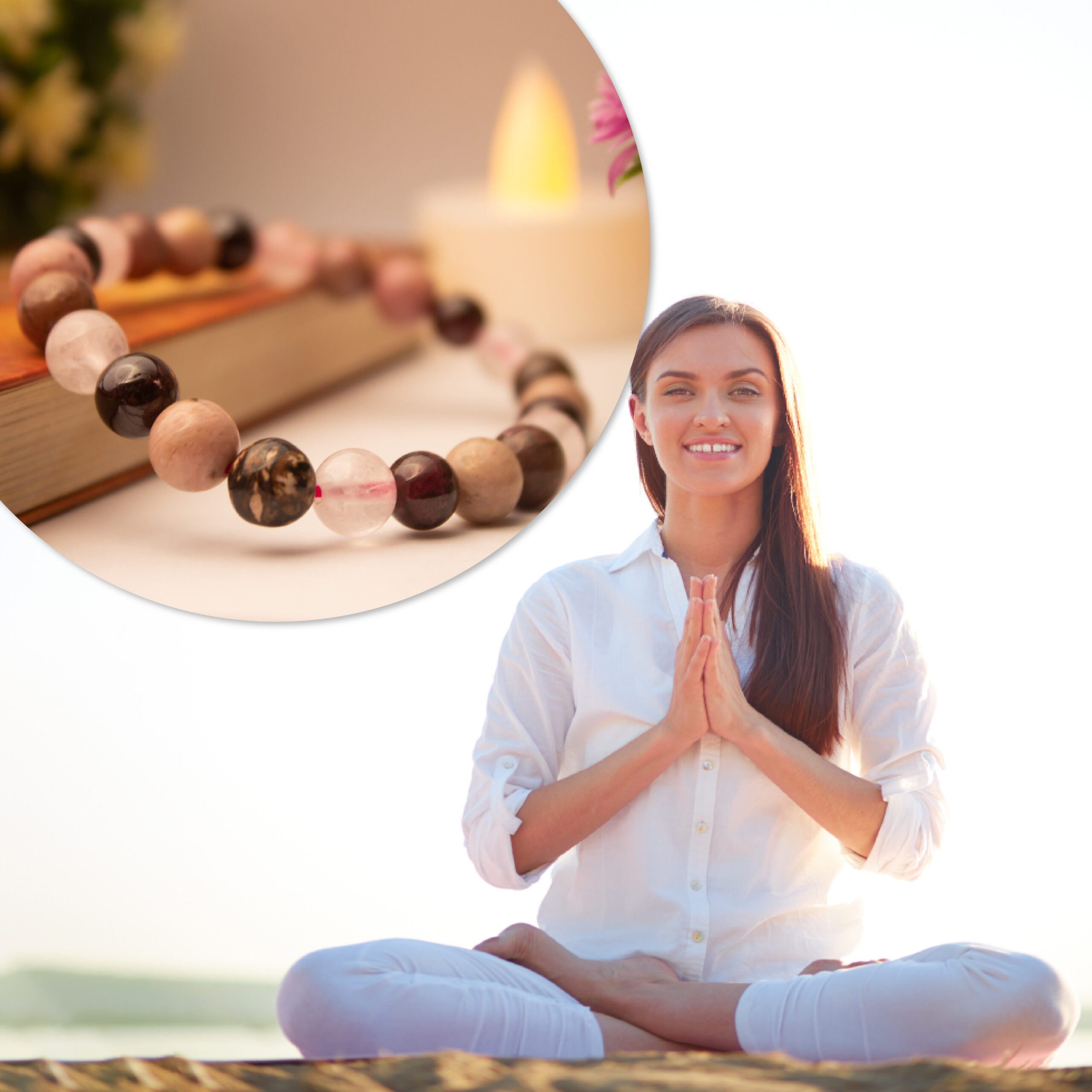 Balances Mind, Body & Soul
The healing power of the crystals can perfectly balance the mind, body & soul by releasing all physical, emotional and spiritual issues. 

The powerful healing energy of crystals can eliminate negative energy and eliminate blockages from the chakras.

The crystals help in cleansing the aura with vibrant energy and harmonize the soul with healing energy.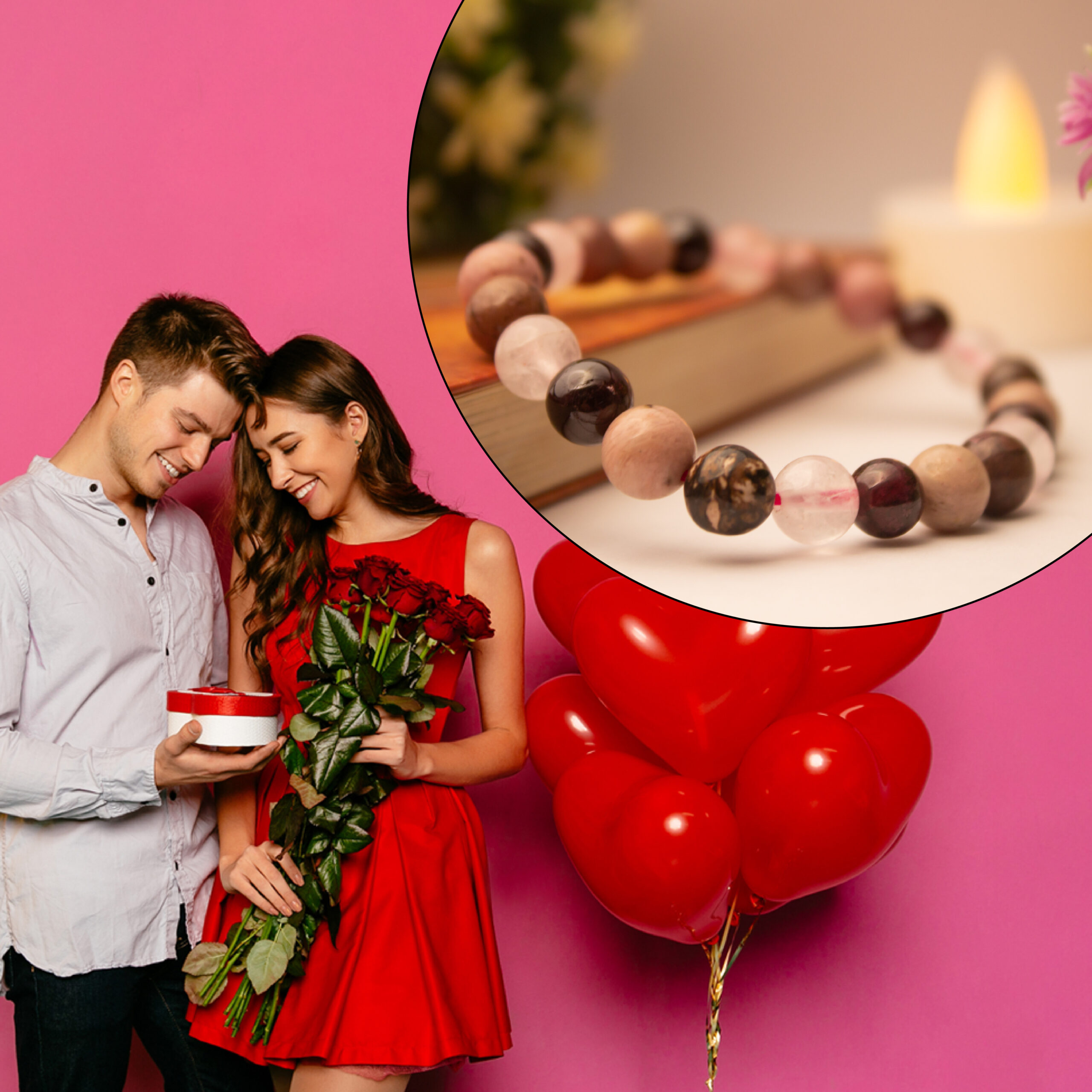 Builds Love & Relationships
The alluring love crystals will bring back the spark in your romantic relationship with loving energy. It helps to strengthen bonds, heal emotional traumas and bring harmony.
Wearing the beautiful love manifestation bracelet will radiate the feeling of love and compassion around you. 
It also escalates feelings of self-love as it helps you connect with your deeper self. It brings out love and peace from within.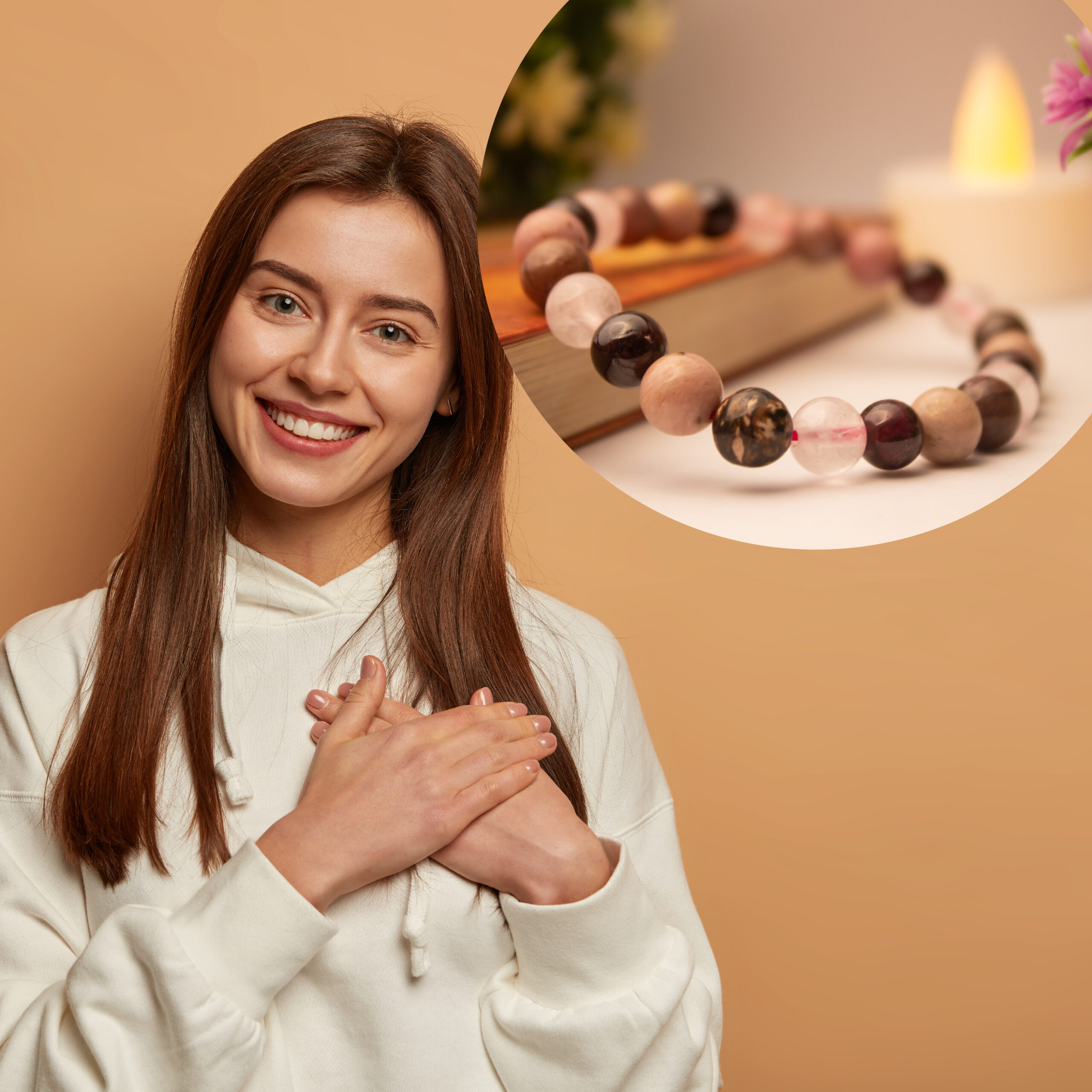 If you are looking to bring balance and heal, get this beautiful healing crystal bracelet that will instill peace and harmony.
The beautiful combination of powerful crystals will release stress, anxiety and cleanse your aura with vibrant healing energy.

The highly energising crystals will remove negativity and bring in joy, happiness & prosperity.
This thoughtful gift will rejuvenate one's life with the power of divine crystal.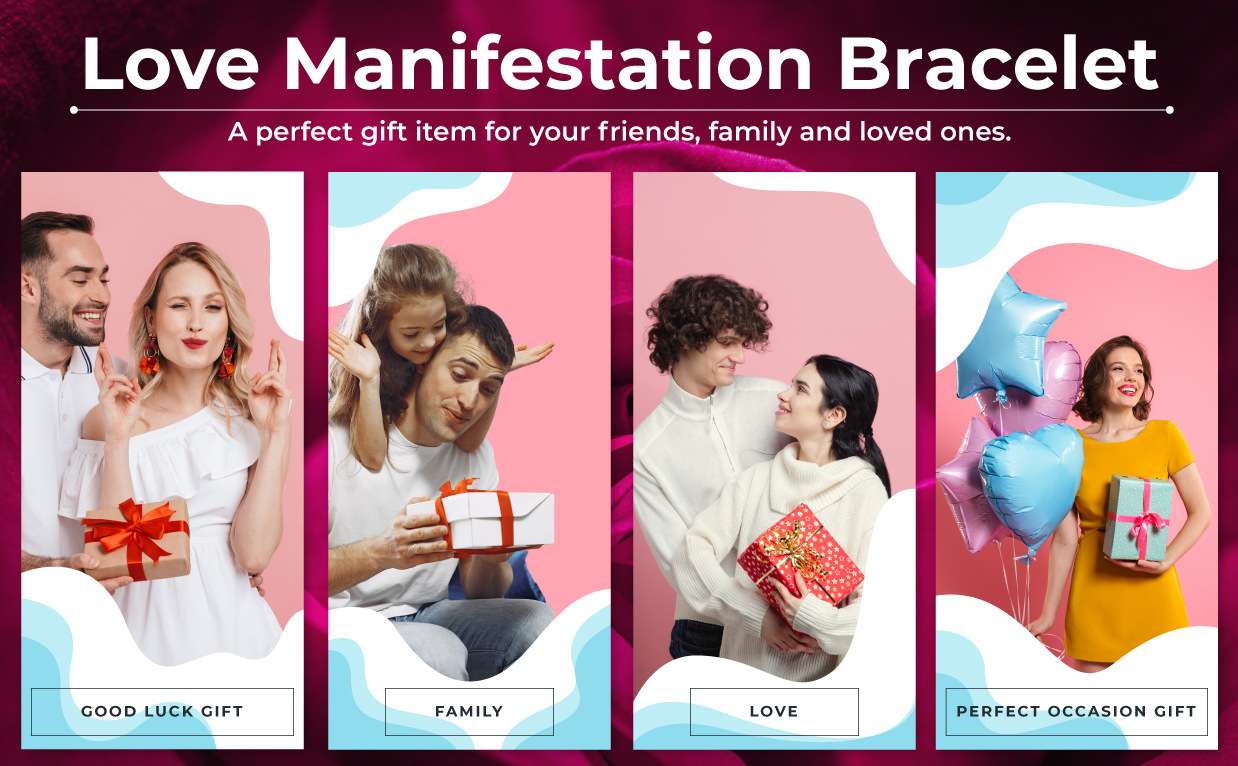 Wear this Highly Energising and Purifying Love Manifestation Gemstone Bracelet and Manifest your Dream Goal!
Get a Love Manifestation bracelet and fill your life with light, love, joy, happiness and compassion. The powerful combination of gemstones will heal your relationship problems, build strong bonds, enhance communication and help in developing trust. It will open your heart to feelings of self-love, and understanding and also improve your emotional well-being.  
Rose Quartz
The alluring Rose Quartz will bring back the spark in your romantic relationship with its loving energy. It radiates the feeling of self-love and compassion among all. Its healing energy will strengthen all kinds of bonds, and develop meaningful connections with spouses, family & friends. It will eliminate bad vibes from mind, body & spirit and allows the flow of new, clean & positive energy.
Rhodochrosite
Rhodochrosite is the stone that will bring joy and comfort. The stone encourages us to only build meaningful relationships and leave behind the hurtful past. It draws away negative ties, releases emotional baggage and makes space for new beginnings. It resonates with the Sacral Chakra and the Heart Chakra. Even during bad times, the stone will help you manifest abundant love. 
Rhodonite
Rhodonite resonates with compassion and love. The stone can help develop a deeper understanding between spouses and encourage open communication. It acts as a relationship counsellor and makes space for honesty, love, joy and acceptance. Its bright healing energy can light up the mood and unblock the Heart Chakra.  
Garnet
Garnet is the stone of commitment that can take your relationships to the next level. The stone has powerful healing energy that can enhance physical intimacy between partners and shower more love, understanding and deep connection. The amazing Garnet can also cleanse the aura and eliminate all the negative energy from your life.  
Cleansing Love Manifestation Bracelet:
Crystals contain enormous energy that rejuvenates our mind, body, and soul. However, when too much negative energy gets stored in the crystal, it starts concealing the positive vibrations of the crystal. So, it is necessary to cleanse the crystal to keep its energy pure and vibrant.
Water is the best way to neutralize all the negative energies stored and return the crystal back to its natural state. Make sure to use clean water and let the stone immerse in it completely–& pat it dry once you're done. 

Leaving gemstones under the light of the full moon or in sunlight will help crystals get charged and clear away old energies. 

You can also use Selenite crystal to charge & cleanse your crystals. When crystals are placed with Selenite, this versatile stone takes away their negative energy by inducing positive energy in them, and then it automatically cleanses itself.
Note: These are natural stones, so their color, shape and sizes vary and sometimes there are holes in it. Also there are grains inside the stones which look like cracks, but these are natural.