Description
Why should you get Migraine Relief Support Bracelet?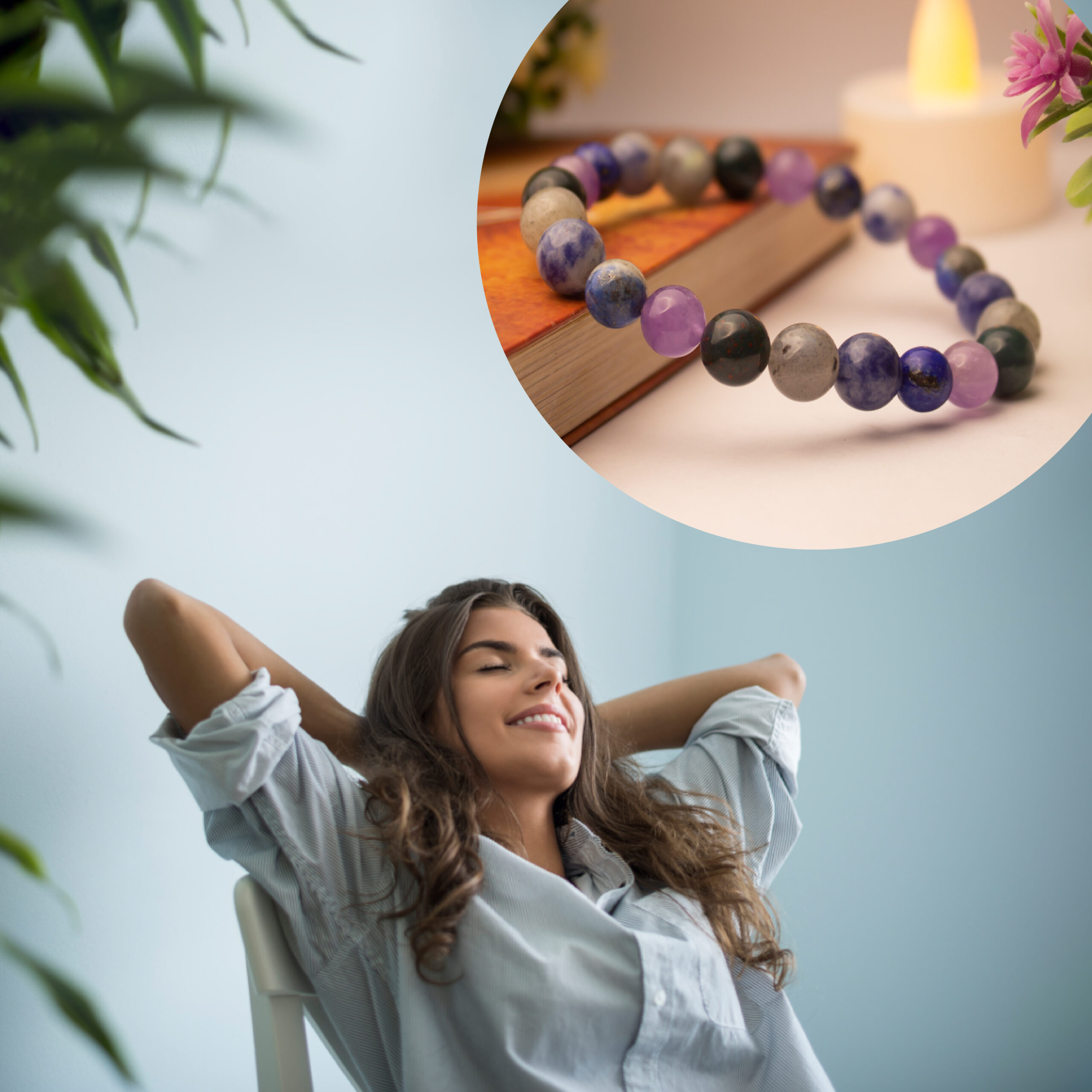 Releases Stress & Tension
The natural crystals possess strong healing properties that release stress, anxiety & tension away from the mind, body & soul.

 The stunning combination of crystal bracelet can induce deep relaxation by cleansing the aura with soothing & vibrant energy. 

The powerful healing stones can help reduce the intensity of pain, relax the mind, give ultimate relief with serene and peaceful vibes.
We are all surrounded by energies and vibrations; good and bad. The bad vibes and toxic energies drain us and block our path.

The gemstones will eliminate and block those negative energies. It will cleanse the aura around you; allowing only good vibes to enter.

Get the vibrant gemstone bracelet and let the positive energies flow around you freely.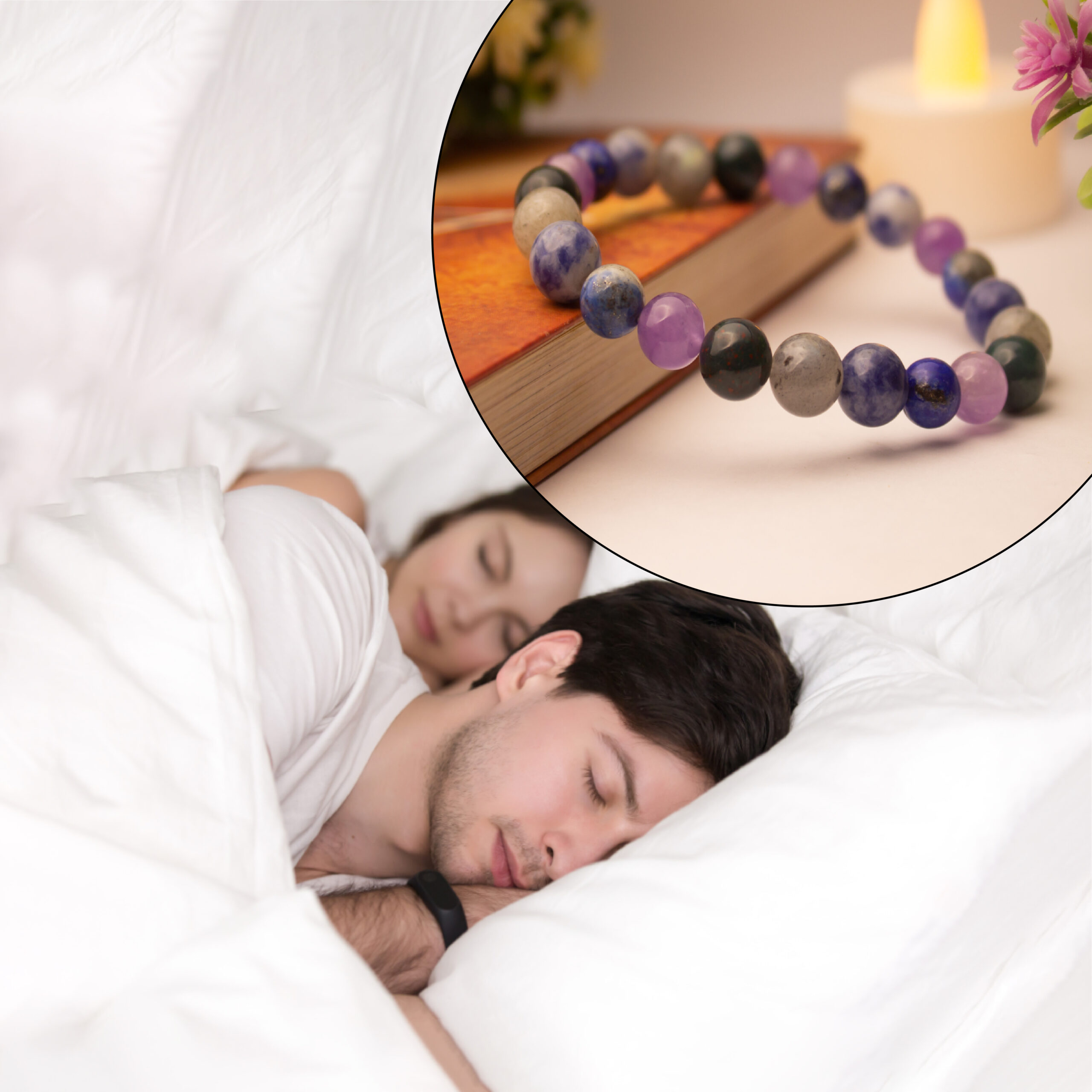 Improves Sleep & Well-Being
The natural gemstone bracelet will help to release stress, and anxiety and balance the mind, body & soul.

The highly-energising power of crystals can heal all physical, emotional, mental, and spiritual imbalances.

It will improve your overall well-being

The healing bracelet can be very beneficial for improving sleeping patterns. It cleanses the aura with vibrant energy and creates a soothing atmosphere that helps in relaxing & promoting good deep sleep.
Rejuvenates Mind, Body & Soul
The healing power of the crystals can perfectly balance the mind, body & soul by releasing all physical, emotional and spiritual issues. 

The powerful healing energy of crystals can eliminate negative energy and eliminate blockages from the chakras.

The crystals help in cleansing the aura with vibrant energy and harmonize the soul with healing energy. 
This thoughtful gift will rejuvenate one's life with the power of divine crystal.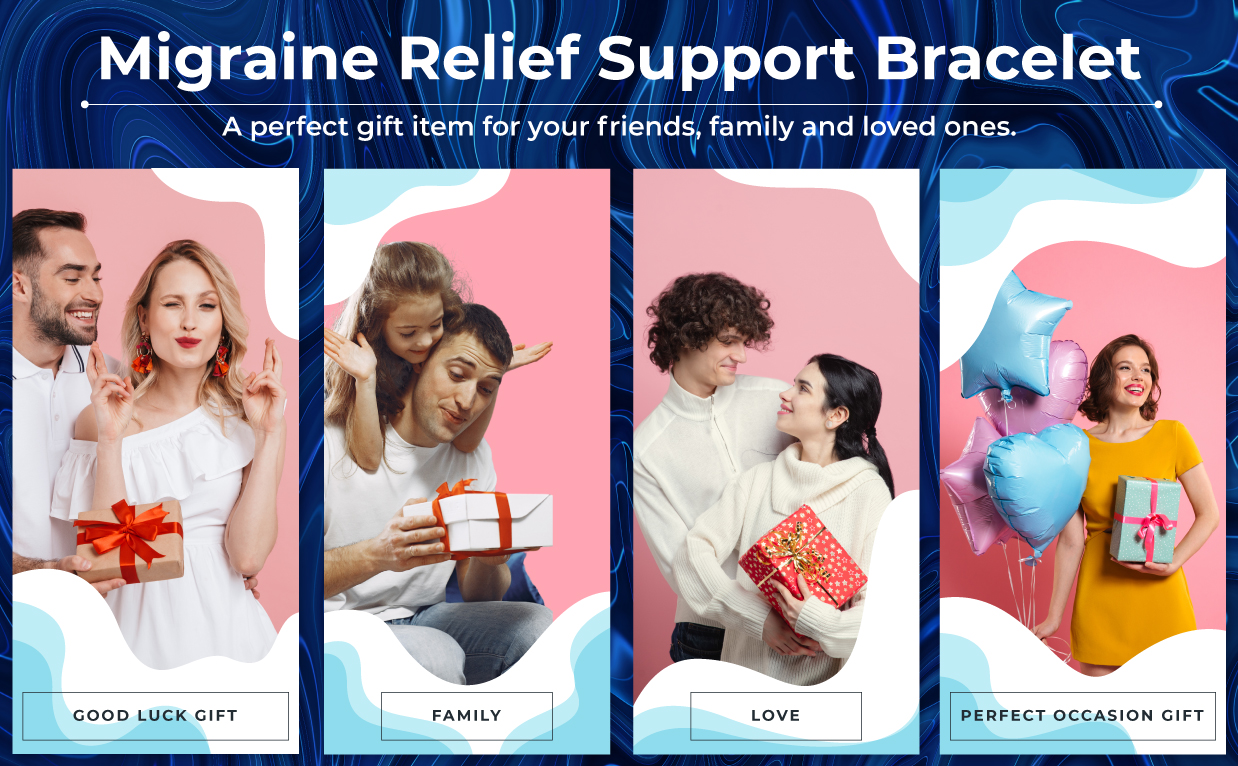 Wear this Highly Energising and Purifying Migraine Relief Support Gemstone Bracelet and Manifest your Dream Goal!
Get a Migraine Relief Support Bracelet and release all the pain, stress, and tension from your life. The combination of powerful healing stones will help you fight migraine and headache caused pain and also reduce its effects. It will revitalise your mind, boy and spirit with positive, peaceful and calming energy. 
Amethyst
Amethyst works as a natural stress reliever that can reduce headaches and pain The stone amplifies healing energy and cleanse the surroundings with positive vibrations. It cleanses the aura, relaxes the body, and releases tension and anxiety. Its soothing energy can help you fight insomnia and get good sleep. Physically, the purple stone eases the muscles and revives from pain. 
Lapis Lazuli
The royal Lapis Lazuli Gemstones eliminate negative energy from the surroundings and transform it into vibrant energy The stone reduces stress, eliminates insomnia and improves emotional stability. It promotes well being by removing all kinds of blockages. It can heal all our physical, mental, emotional & spiritual issues. The enormous energy of crystals also strengthens our intuition. 
Sodalite
Sodalite gives peaceful energy that can calm the mind from unnecessary chatter and promote relaxation. The highly energising stone can revitalise the mind, body & soul. It is a great gemstone to strengthen bones & muscles, enhance metabolism and boost immunity. Its highly energising energy can also enhance your personal power and keep you motivated with its positive and nurturing nature. 
Labradorite
Labradorite, the stone of transformation, brings positive changes in all aspects of life. It improves physical, mental, and emotional health & encourages spiritual growth. The stunning gemstone sparks light that brings positivity, a cheerful mood & a vibrant environment. Labradorite has highly stabilizing energy that can dissolve all the negative energies and heal you from within. Its high vibration can instil calmness, take away the pain and instil a sense of calmness and tranquillity. 
Bloodstone
The highly energising Bloodstone will re-energise your mind, body & soul with powerful healing properties. The stone can help reduce stress, anxiety and fear in your mind. It is a great stone to get relief from pain caused by migraine and headaches. Its calming energy can draw away negativity and promote deep relaxation. 
Cleansing Migraine Relief Support Bracelet:
Crystals contain enormous energy that rejuvenates our mind, body, and soul. However, when too much negative energy gets stored in the crystal, it starts concealing the positive vibrations of the crystal. So, it is necessary to cleanse the crystal to keep its energy pure and vibrant.
Water is the best way to neutralize all the negative energies stored and return the crystal back to its natural state. Make sure to use clean water and let the stone immerse in it completely–& pat it dry once you're done. 

Leaving gemstones under the light of the full moon or in sunlight will help crystals get charged and clear away old energies. 

You can also use Selenite crystal to charge & cleanse your crystals. When crystals are placed with Selenite, this versatile stone takes away their negative energy by inducing positive energy in them, and then it automatically cleanses itself.
Note: These are natural stones, so their color, shape and sizes vary and sometimes there are holes in it. Also there are grains inside the stones which look like cracks, but these are natural.