Description

Why you should get Lapis Lazuli Orgone Energy Pyramid: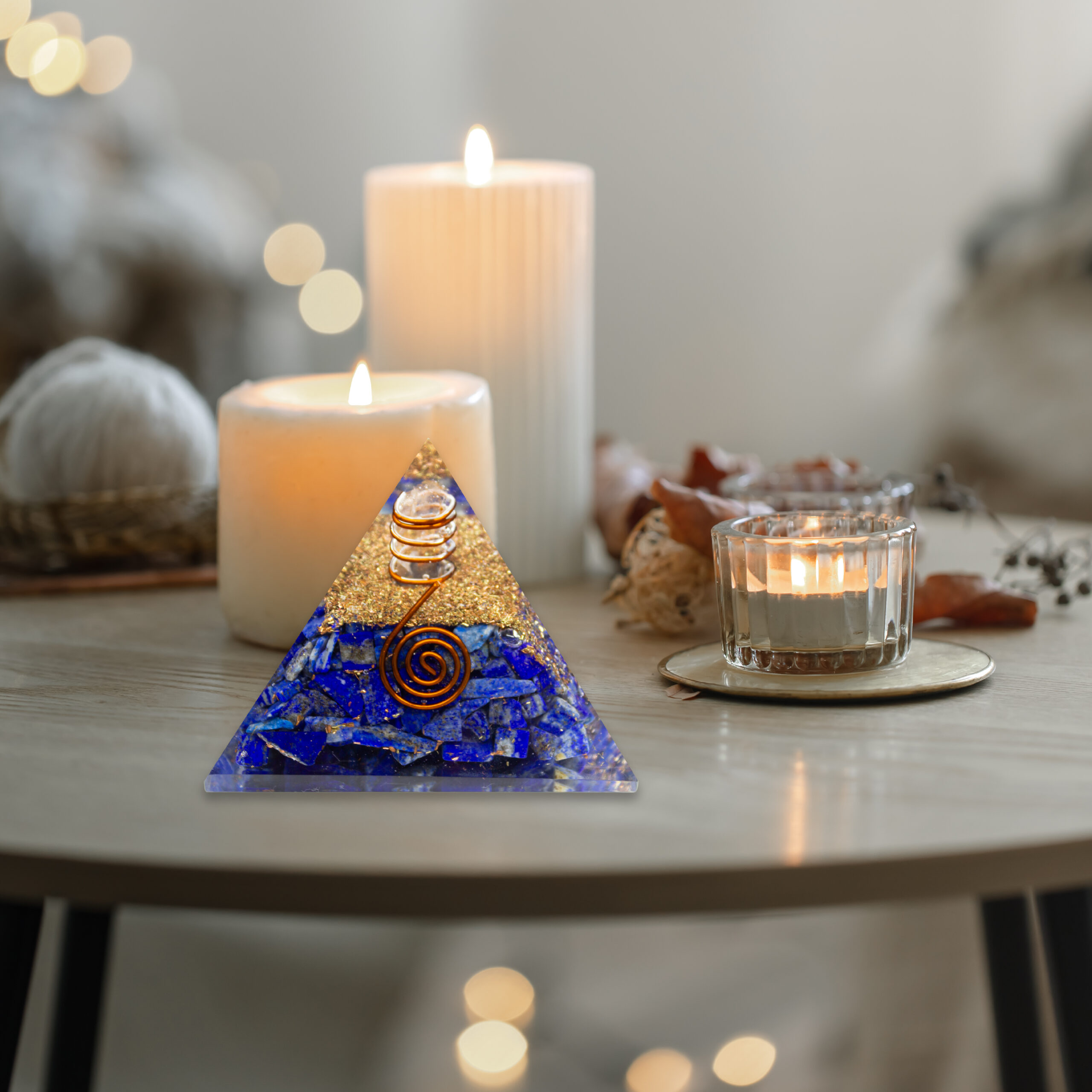 The divine Lapis Lazuli pyramid serves as the perfect decorative item for home decor, and table decor as it removes negative energy and improves health.

The energizing power of crystal and orgone energy can heal all physical, mental, emotional, and spiritual problems. Place the orgone pyramid at your home to repel negative energy, keep your surroundings peaceful, and infuse positive energy.

The pyramid holds the power to channel, absorb and transfer energy into your surroundings. Placing this anywhere will allow the energy flow and clear all the blockages.
According to VASTU & FENG SHUI, the triangular Orgone Energy Pyramid acts as an energy shield that will heal, protect and guard against negative energies from our surroundings.

Protect your home, shop, or office with this divine Vastu item. Place this at your home, living room or anywhere for Vastu correction and also healing spiritual rituals.

The orgone crystal pyramid is also used for Meditation, Reiki Healing, Spiritual Healing, Astrology, Numerology and Tarot Card.
We are all surrounded by energies and vibrations; good and bad. The bad vibes and toxic energies drain us and block our path.

The Lapis Lazuli orgone energy pyramid will eliminate and block those negative energies. It will cleanse the aura around you; allowing only good vibes to enter.

If you are looking to bring balance and healing, get this beautiful healing crystal pyramid that will instil positive energy, peace and harmony. It induces a calm & soothing environment that improves well-being.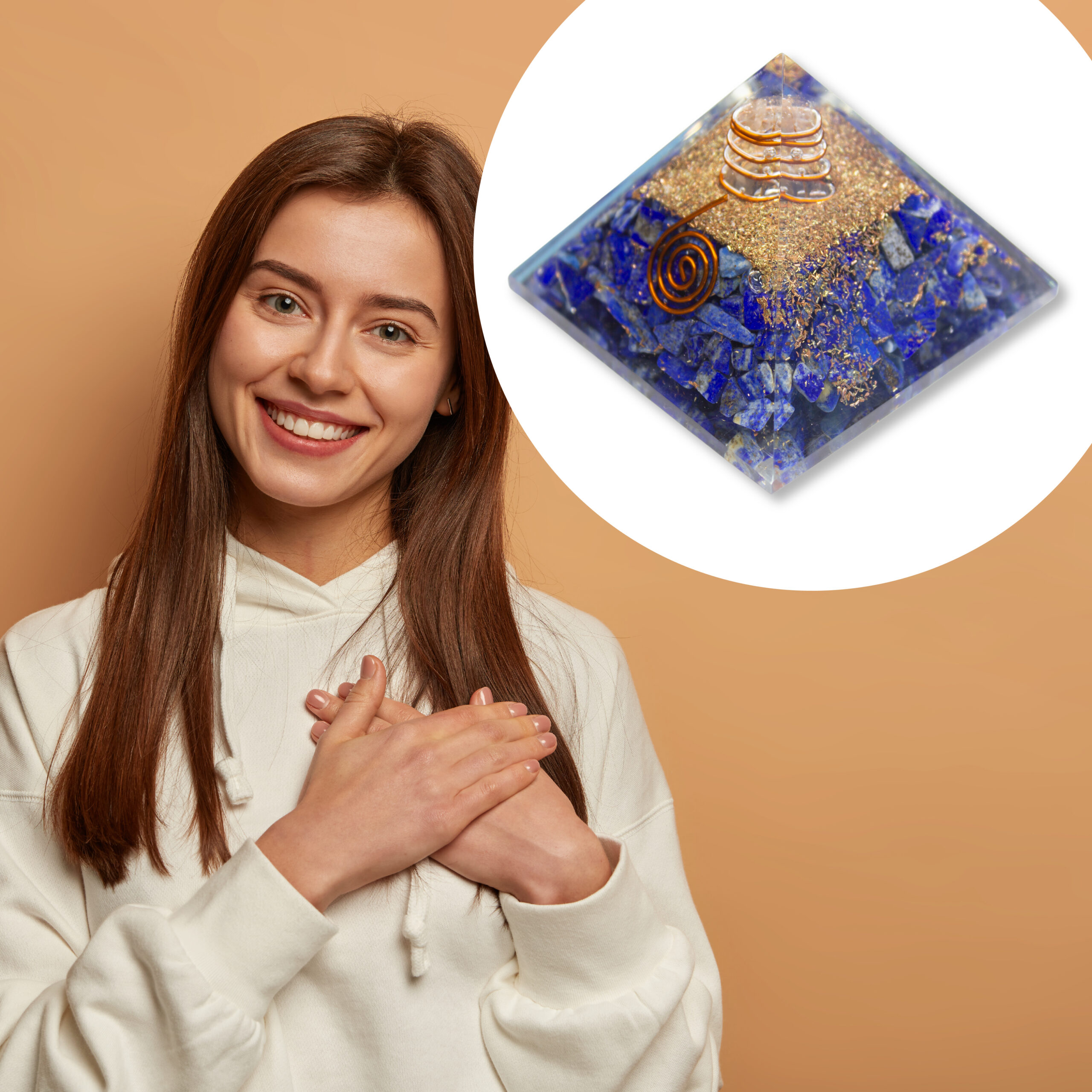 Better Sleep & Well-being
The natural lapis lazuli orgone energy pyramid will help to release stress, and anxiety and balance the mind, body & soul.

The powerful pyramid can help balance all physical, emotional, mental and spiritual issues. It will improve your overall well-being

Very effective against sleeplessness, the lapis lazuli pyramid induces a peaceful & soothing aura that improves sleeping patterns. It helps to get good deep sleep by cleansing the aura with vibrant energy.
This thoughtful gift will rejuvenate one's life with the power of divine crystal.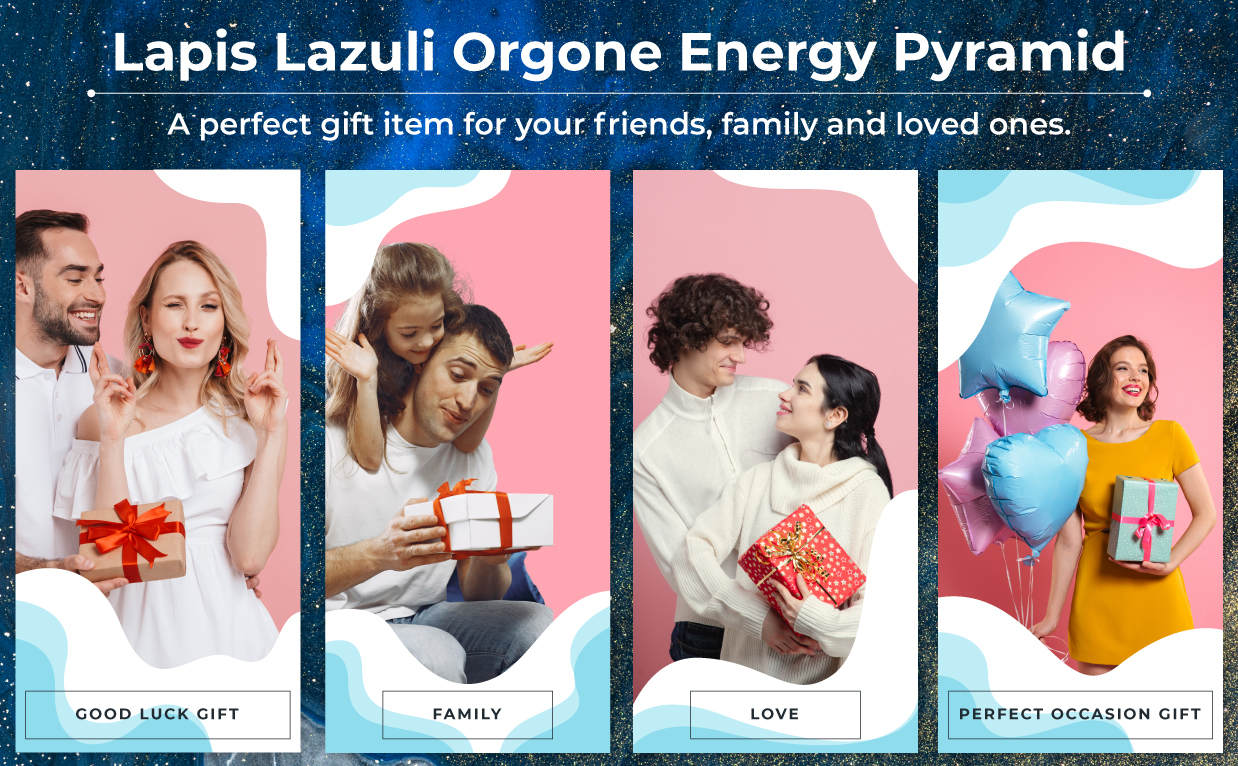 Rejuvenate your soul with the soothing & powerful energy of the Lapis Lazuli Orgone Energy Pyramid.
Bring Good Luck, Peace, Abundance, Harmony and Fill your Life with Positive Energy!
How to Use:
Healing: Lapis Lazuli Orgone Pyramid can shower healing energy, activate the higher mind and enhance intellectual ability. It can eliminate negative energy from the surroundings and transform it into vibrant energy. With many healing properties, the stunning lapis lazuli stone improves spiritual & emotional well-being along with balancing physical issues too.
Remove Negative Energy: Dispel away negativity and cleanse your surroundings, home, office & shop with positive energies. The Lapis Lazuli crystal orgone pyramid will purify and protect with powerful healing vibrations. It will alleviate stress & supercharge your home with healing energy. Keep this pyramid near your and fill your aura with positive energy.
Meditation: Using the orgone energy crystal pyramid during meditation practice can help improve focus and create a serene atmosphere. The crystal pyramid will eliminate negative energy. Its highly energising power will also magnify the healing effect and bring desired results.
Chakra Healing: Lapis lazuli balances the third eye chakra & releases the blockages. It can activate your higher chakras. These are associated with mental clarity and divine inspiration. The third eye is connected to spiritual enlightenment and greater wisdom. The pyramid can help remove blockages from the chakra and allow the free flow of vibrant energy to enter.
Manifestation & Visualization: You can use crystals and pyramids for manifestation. Using it with affirmations can help you attract your desires as its energy can magnify your goals and send them out into the universe. Place the crystal pyramid near you to set intentions, visualize and affirm them to achieve desired results. Release all the tension in your body and try to be present at the moment. You can start by visualizing your best or higher self. It is best to speak out the affirmations out loud once you are completely focused and ready to manifest.
Note:
The stones used in this are natural gemstones. So the product you might receive can slightly vary from the image shown.