Description
Why you should get Rudraksha Orgone Energy Pyramid: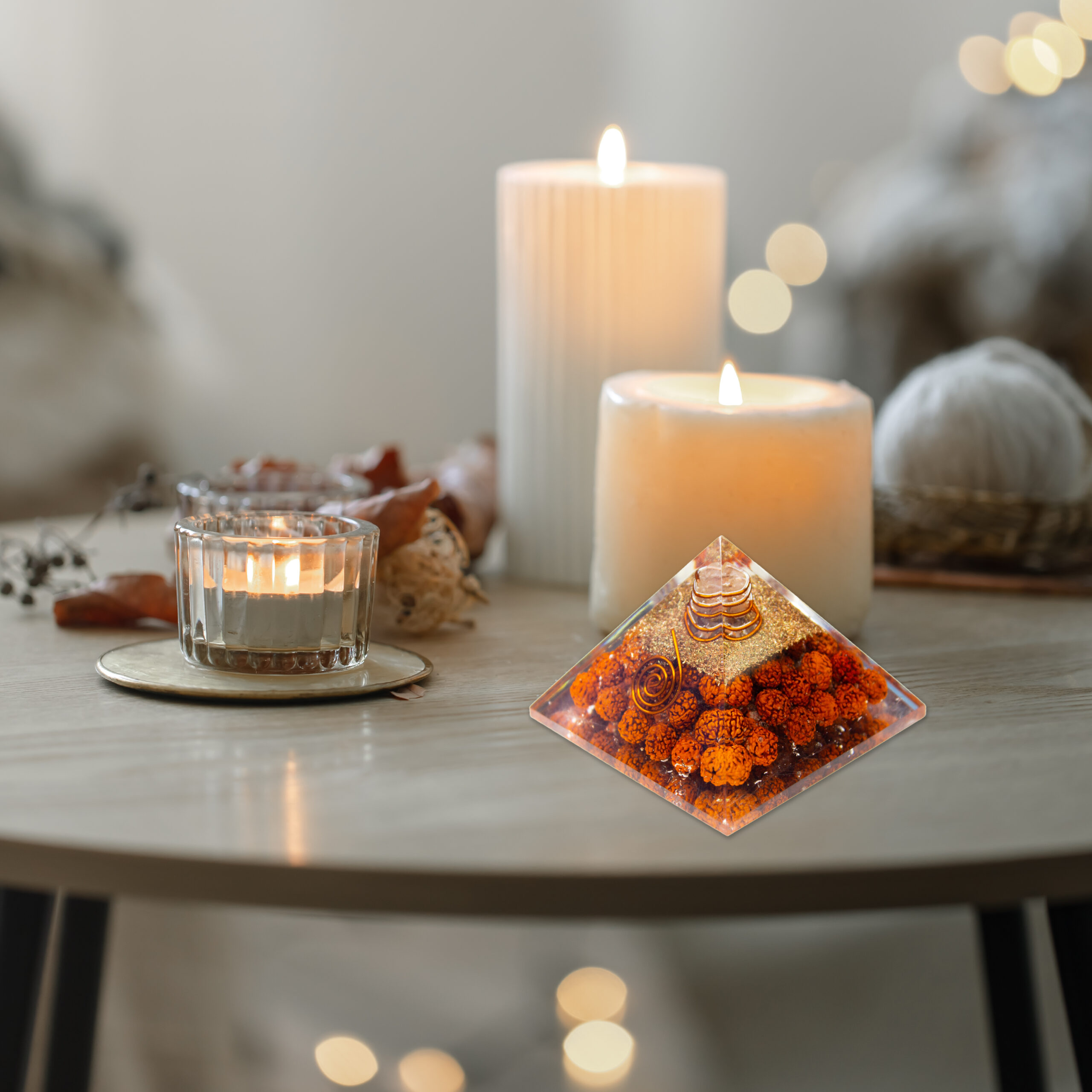 The divine rudraksha pyramid serves as the perfect decorative item for home decor, table decor as it removes negative energy and improves health.

The energizing power of rudraksha and crystal can heal all physical, mental, emotional, and spiritual problems. Place the orgone pyramid at your home to repel negative energy, keep your surroundings peaceful, and infuse positive energy.

The pyramid holds the power to channel, absorb and transfer energy into your surroundings. Placing this anywhere will allow the energy flow and clear all the blockages.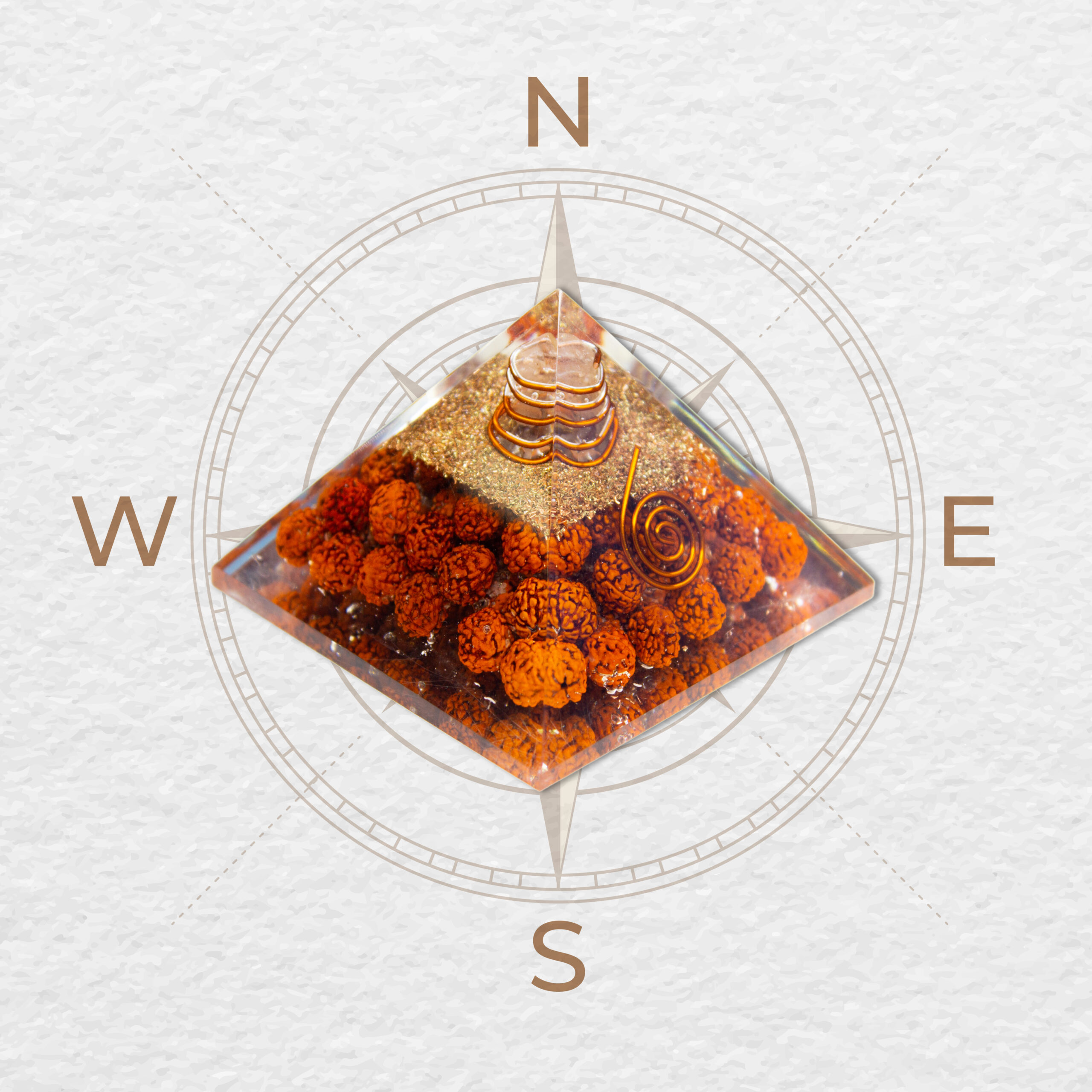 According to VASTU & FENG SHUI, the triangular Orgone Pyramid acts as an energy shield that will heal, protect and guard against negative energies from our surroundings.

Protect your home, shop, office with this divine Vastu item. Place this at your home, living room or anywhere for Vastu correction and also healing spiritual rituals.

The orgone crystal pyramid is also used for Meditation, Reiki Healing, Spiritual Healing, Astrology, Numerology and Tarot Card.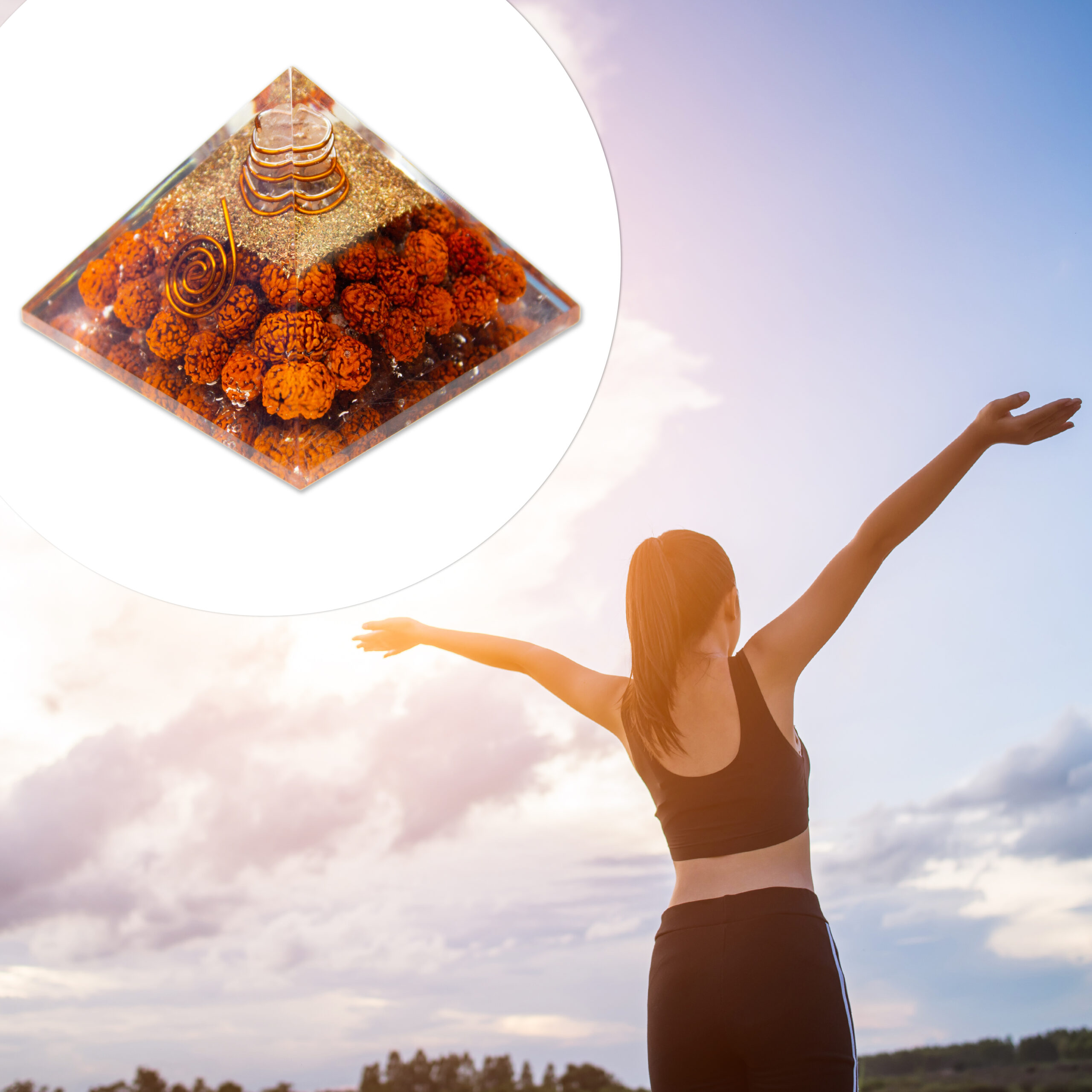 We are all surrounded by energies and vibrations; good and bad. The bad vibes and toxic energies drain us and block our path.

The rudraksha orgone pyramid will eliminate and block those negative energies. It will cleanse the aura around you; allowing only good vibes to enter.

If you are looking to bring balance and heal, get this beautiful healing crystal pyramid that will instil positive energy, peace and harmony.
The natural rudraksha orgone energy pyramid will help to release stress, anxiety and balance mind, body & soul.

The powerful pyramid can help balance all physical, emotional, mental and spiritual issues. It will improve your overall well-being.

The Rudraksha pyramid induces a calm & soothing environment that promotes good well-being
This thoughtful gift will rejuvenate one's life with the power of divine crystal.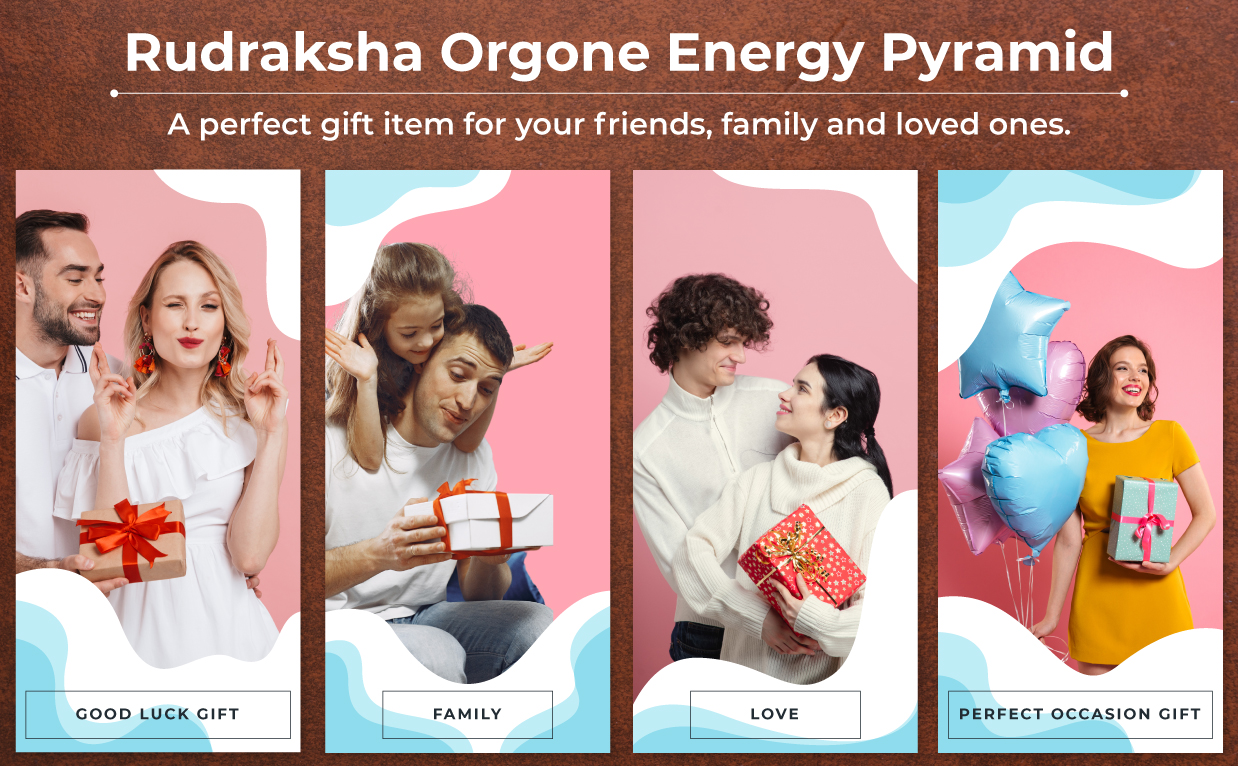 Cleanse your Surroundings with the Pure Healing Energy of the Rudraksha Orgone Pyramid– Bring Good Luck, Abundance, Success and Fill your Life with Positive Energy!
Rudraksha Orgone Energy Pyramid is made up of the perfect combination of Rudraksha beads, Copper Ring with Clear Quartz and Orgone Energy.
Copper Ring with Clear Quartz: Clear Quartz and Copper together provide protection. The master healer, Clear Quartz amplifies healing energy & paves the way for spiritual growth. A great balancing stone, it can store, regulate & release the body's energy flow and amplify the metaphysical powers of other crystals. It clears all the negative energy, balances the body & promotes harmony. Known for its healing abilities, it is exceptionally the best gemstone that evokes the power of manifestation & promotes health, wealth & prosperity. Excellent for removing the blockages, Clear Quartz's energy purifies at all levels; mental, emotional, physical & spiritual. Clear Quartz gemstones have purifying energy that keeps your body, mind, and soul in harmony. It absorbs negativity, amplifies positive energy, balances & restores the aura through its healing energy. Clear Quartz is exceptionally the best energy mineral that evokes the power of manifestation & promotes health, wealth & prosperity.
Orgone Energy: The striking pyramid emanates positive vibrations from orgone energy that cleanses harmful electromagnetic waves. The word orgone is derived from life force energy & is also known as Chi, Prana, Ether. It is often used for combatting EMF pollution, cell phone tower radiation & clearing negative energies in homes, and spiritual and healing rituals.
Rudraksha: Rudraksha Beads are highly regarded from ancient times and hold huge significance in Hinduism. It is well known through Shiva Purana that the Rudraksha tee was formed by the teardrops of Lord Shiva and hold strong healing and scientific benefits. The divine bead can help you connect to yourself and is an ideal companion for meditational practices. A perfect olio of ancient faith & spiritual beliefs, Rudraksha carries its own significance served by olden days. Rudraksha pyramid transforms the negative energy into positivity. It detoxifies the environment, cleanses and possesses many physical as well as spiritual benefits. Keeping rudraksha in your house disarms predatory forms of life. These spiritual beads act as a shield that guards against negative energies. It promotes overall health, invites wealth, abundance & prosperity.
Note: These are natural stones, so their color, shape and sizes vary and sometimes there are holes in it. Also there are grains inside the stones which look like cracks, but these are natural.