Description

Why you should get Seven Chakra Pyramid: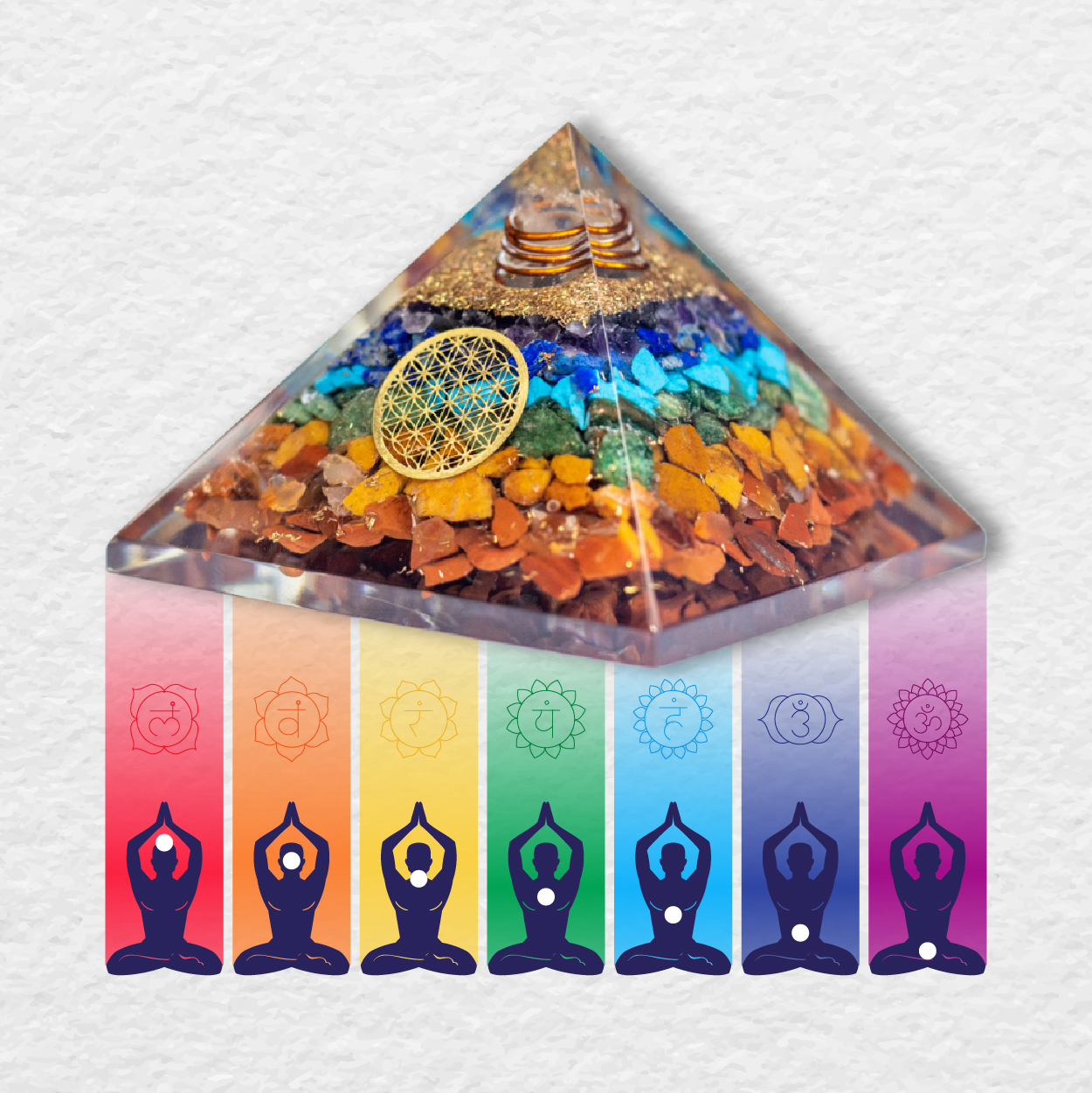 Crystal Pyramid is made up of 7 Chakra Natural Gemstones representing the seven chakras of our body. The vibrant stones can repel toxic energy, bad vibes and align the seven chakras of the body.

The powerful & unique healing properties of seven charm gemstones can balance the body's energy flow & provide protection from negative energies.

Place this in your home, shop and office to radiate positive energy, activate chakras, instil calmness & tranquillity.
The gemstone crystal pyramid of life acts as a money magnet as it attracts good luck and wealth.

The seven chakra tree helps to manifest success, growth, abundance and also bring good opportunities.

The crystal pyramid are used for centuries to attract money, prosperity and power.
The crystal pyramid are used since ancient times for bringing good luck and wish fulfilment.

It is a perfect gift item for your loved one, friends and family. Gift your loved ones this beautiful good luck showpiece.

Your loved ones will love this elegant and prosperous charm made of natural stone. Gift it as a housewarming gift for good luck and on occasions like christmas and diwali to bring positive energy.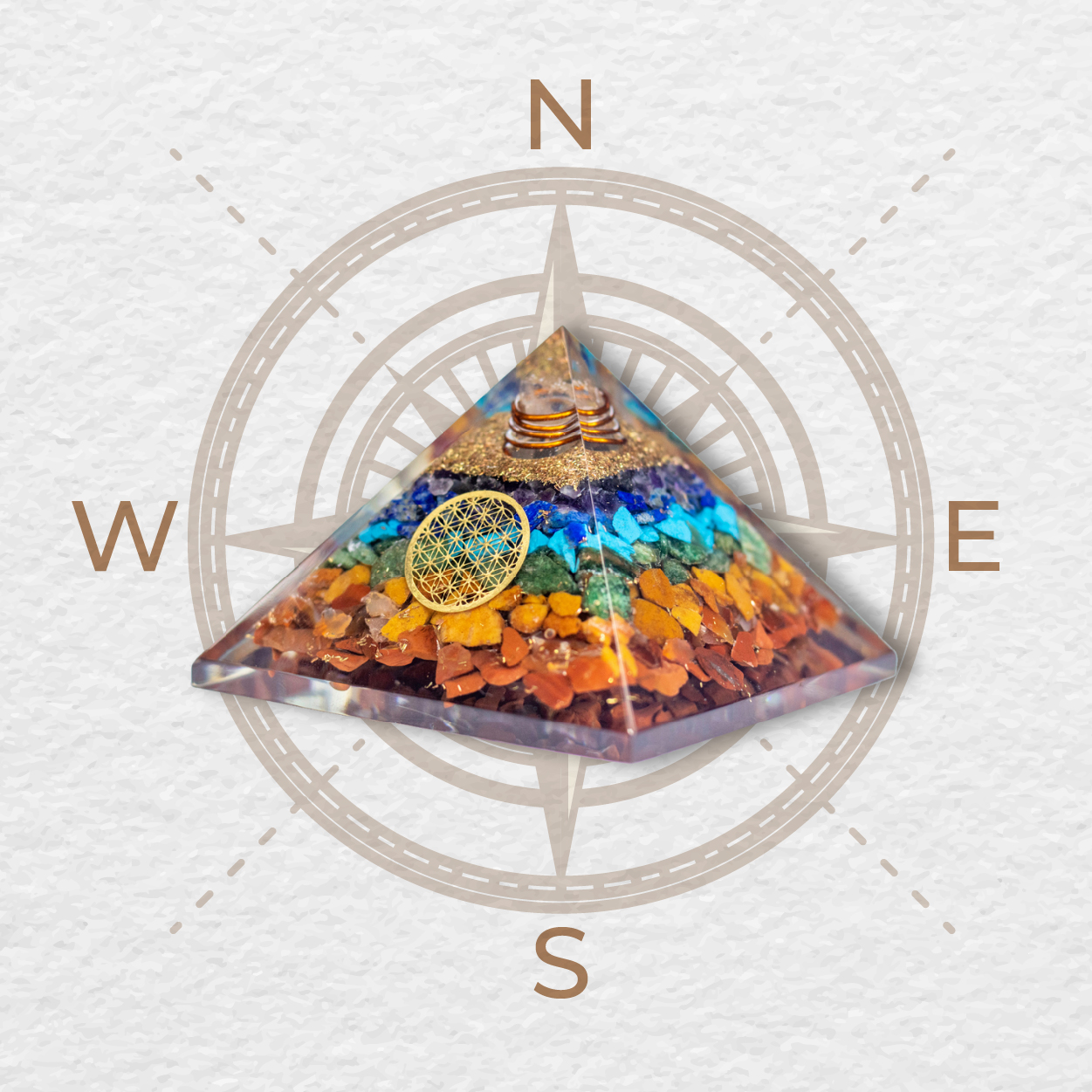 According to VASTU & FENG SHUI, the triangular Orgone Pyramid acts as an energy shield that will heal, protect and guard against negative energies from our surroundings.

Protect your home, shop, office with this divine Vastu item. Place this at your home, living room or anywhere for Vastu correction and also healing spiritual rituals.

The orgone crystal pyramid is also used for Meditation, Reiki Healing, Spiritual Healing, Astrology, Numerology and Tarot Card.
This thoughtful gift will rejuvenate one's life with the power of divine crystal.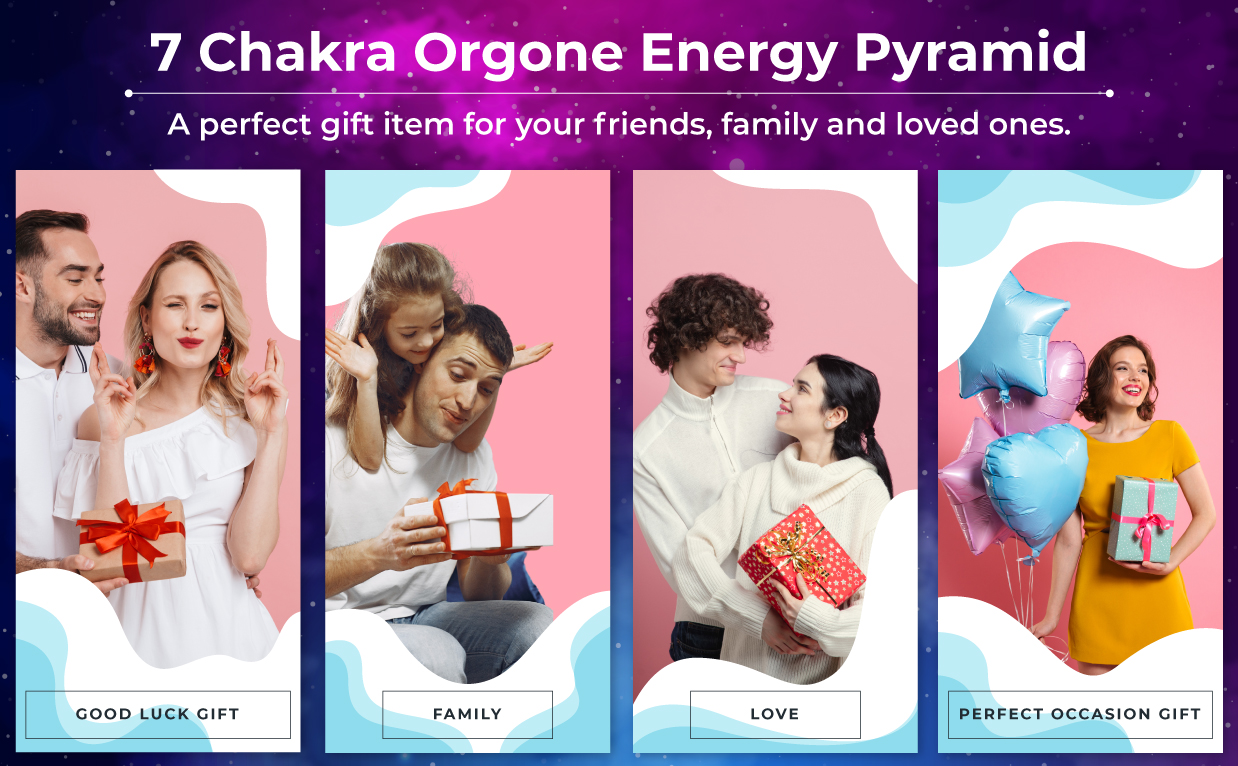 7 Chakra Orgone Energy Pyramid brings Good Luck, Money, Abundance, Success and Fill your Life with Positive Energy!
The seven chakra pyramid consists of 7 gemstones with unique and powerful healing properties. Each crystal works towards all aspects; physical, mental, emotional & spiritual.
Rejuvenate your Mind, Body & Soul with the Powerful Healing Properties of Seven Crystals. Activate, Align & Balance your Chakras and Remove Negative Energy from your Aura.
The vibrant gemstones pyramid will bring harmony and improve wellness with healing bio-energy. The healing effect will bring balance to your chakra energy, remove blockages, enhance sleep & improve overall wellbeing.
Emf Protection: The orgone energy holds power to cleanse harmful electromagnetic waves. The word orgone is derived from life force energy and is also known as Chi, Prana, Ether. It is often used for combatting EMF pollution (from mobile phones, electronic devices, WiFi etc.), cell phone tower radiation and clearing negative energies in homes, and spiritual and healing rituals.
The Seven Chakra Orgone Energy Pyramid consists of:
Copper Ring with Clear Quartz: Clear Quartz and Copper together provide protection. The master healer, Clear Quartz amplifies healing energy & paves the way for spiritual growth. A great balancing stone, it can store, regulate & release the body's energy flow and amplify the metaphysical powers of other crystals.
Flower of Life Symbol: The Flower of Life symbol represents the cycle of creation. It depicts how all life comes from one singular source – represented by the circle in the middle of the pattern.
Red Jasper: Its high energy resonates with root chakra that will keep you grounded. It keeps away negative energy & amplifies manifesting power.
Carnelian: A precious healing stone that can lift energy & bring out your creative side. As a symbol of motivation, strength & endurance, it can boost confidence & restore liveliness.
Yellow Aventurine: This alluring gemstone enhances the flow of energy & removes toxic energies. It helps boost confidence & brings more compassion.
Green Aventurine: Green Aventurine is the luckiest of all crystals as it manifests wealth, good luck & brings opportunities. The green gemstones indicate money and are used to attract more wealth, prosperity, and power.
Lapis Lazuli: As a stone of throat chakra, it will enhance your communication skill & boost your greatest strength. It promotes self-awareness & encourages good judgement.
Blue Aventurine: Also called the healer's stone, this gem helps in clear blockages of the third eye chakra. It can help overcome bad habits and provide overall balance.
Amethyst: Natural stress reliever & healing magnet that can channel strong vibrations for positivity & spiritual awareness.
Note: These are natural stones, so their color, shape and sizes vary and sometimes there are holes in it. Also there are grains inside the stones which look like cracks, but these are natural.