Raksha Bandhan, often known as Rakhi is an Indian festival celebrated every year on the full moon day of the Hindu Shravan month. On this day, sisters tie a holy thread called Rakhi on their brother's wrist. However, if in case the siblings live far away from each other, sisters
send rakhi online
to their brother's doorstep, preserving the essence of the festival. All thanks to the digital era!
On the other hand, the brother promises to protect her from all evils throughout her life. In addition, he surprises her with a present or
shagun
(an auspicious money token). Again, if the distance doesn't allow the sister to receive the present, the brother sends the
Rakhi gift for sister
online. Well, you probably know about these basic traditions already. But there's more the occasion that you presumably are not familiar with.
Why Do We Celebrate Raksha Bandhan?
Hindu scriptures have many Raksha Bandhan stories that reflect the origin of the festival. Here are all of them.
Shri Krishna and Draupadi
Lord Krishna once cut his finger after wielding the all-powerful Sudarshan Chakra. He then started beeling, causing him discomfort. Seeing him in despair, Draupadi tore a piece of cloth from her saree and tied it to his finger to stop the bleeding. Heartfelt with Draupadi's kind gesture, Lord Krishna promised that he would protect her from all evils throughout his life. The piece of cloth then became a sacred thread which now we call Rakhi. Keeping his promise, when Kauravas tries to disrobe Draupadi in front of everyone, Krishna protects her dignity by providing an immeasurable piece of cloth to keep her covered.
Goddess Lakshmi and King Bali
Another renowned Rakhi story is of King Bali and Goddess Lakshmi. Once upon a time, Lord Vishnu decided to leave Vaikundam (his place) to protect Bali's Kingdom, which was his great devotee and a demon king. Dispirited by his decision, Goddess Lakshmi, wife of Lord Vishnu went to King Bali as a Brahmin woman to take shelter. On a full moon day of Shravana Purnima, she tied Rakhi to King Bali's wrist. Moved by her action, the King promised her to grant a wish. Thereafter, she revealed her identity and asked to release his gatekeeper, Lord Vishnu. Bali keeps his promise and requests him to return home with his consent.
Rani Karnawati and Emperor Humayun
In the medieval era, Rajputs were fighting & protecting their Kingdom from Muslim invasions. Rani Karnawati, the widowed queen of the king of Chittor realized that she could not protect her Kingdom from the invasion of the Bahadur Shah, Sultan of Gujarat. On Raksha Bandhan, she sent a Rakhi thread to Mughal Emperor Humayun along with the request to seek protection for her empire. Softened by her gesture, he started off towards Chittor with his troops to save his sister's empire. This remains the most popular evidence of the festival in history.
Shubh, Labh, and Santoshi Maa
Devi Manasa, sister of Lord Ganesha once visited him to celebrate the festival of Raksha Bandhan. According to the tradition, she tied a Rakhi on his wrist. Seeing this, Lord Ganesha's sons, Shubh and Labh got angry for the fact that they did not have a sister. Upon their great desire to have a sister and celebrate Rakhi, Lord Ganesha creates Santoshi Maa from the divine flames of Riddhi and Siddhi, his wives. Thereafter, three siblings celebrate Raksha Bandhan every year.
Another legendary tale is of Yama, lord of death, and Yamuna, the goddess of the Indian river Yamuna. Once upon a time, Yamuna tied the holy Rakhi to Yama. Overwhelmed with her gesture, he grants her immortality. Moreover, he declared that any brother who offered to protect his sister upon tying rakhi would become immortal.
Another historical event of Rakhi took place in 300 B.C. Roxana, the wife of Alexander the Great sent Porus a sacred thread when he invaded India. Along with the thread, she requested him to not harm her husband on the battlefield. King Porus honored the request and refused to kill Alexander in the battle of the Hydaspes River. However, Porus eventually lost the war in the end.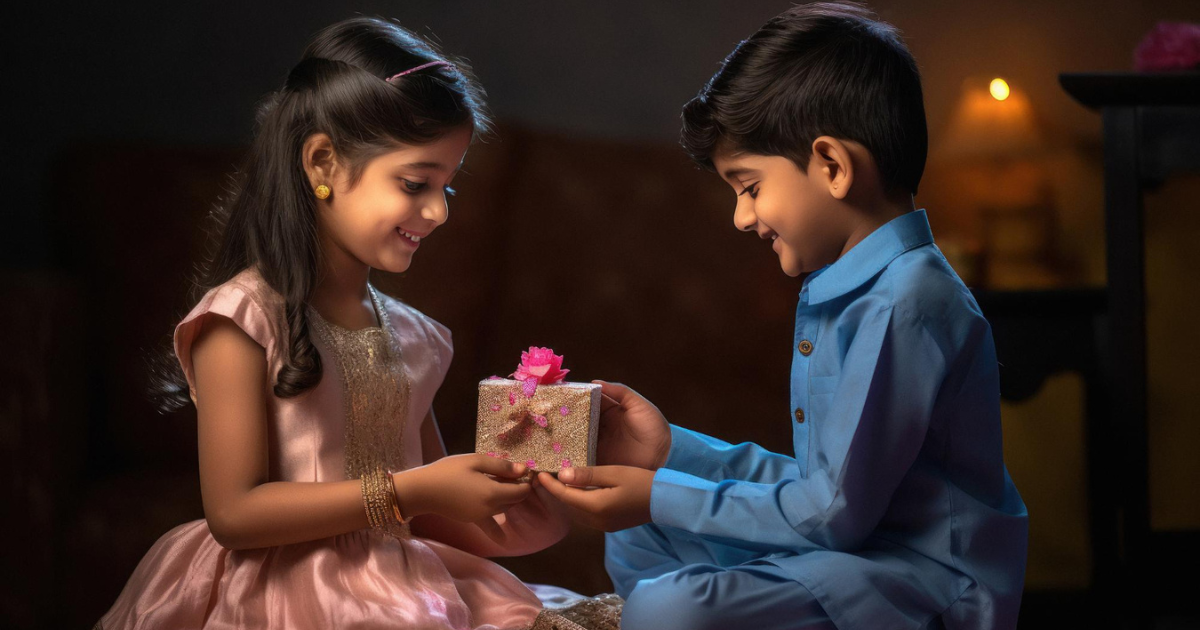 Raksha Bandhan Significance
"Raksha Bandhan" means "the bond of protection" or "the knot of protection," indicating the essence of the festival. It holds significant spiritual and cultural importance in Sanatan Dharma. The festival emphasizes the importance of harmonious relationships in society. It encourages individuals and families to cultivate love, compassion, and respect for one another. Like all special occasions, it encourages people to connect with each other amid their busy lives. Spiritually, rakhi is a symbolic shield against negative energies and obstacles. It fosters strong relationships, encourages selflessness, and reinforces the values of unity and care within families and communities. Most importantly, it is the renewal of the promise to stand by one another through life's ups and downs.
While we celebrate Raksha Bandhan, it's imperative to perform all rituals to stay connected with our roots and seek proper blessings from the divine. On that note, here are some Rakhi rituals that you should follow.
Take a shower early in the morning and wear clean clothes, preferably new.
Take proper care of hygiene and cleanliness as Rakhi is a sacred festival.
Prepare and decorate the Rakhi thali with Roli, Sandalwood, Akshat, Dahi, Rakhi, sweets, and diya.
Before tying rakhi to your brother, tie the thread to a deity and seek blessings.
According to vastu, the brother should face the east or north direction while performing the rituals
Both brother and sister should cover their head with a scarf or a handkerchief.
Now, Apply tilak on your brother's forehead and do the Aarti.
Tie the rakhi on the right wrist of your brother as it is considered auspicious in Hindi culture
Offer sweets to your brother and wish him a healthy and prosperous life.
At last, exchange gifts and take the blessings of your elders.
May this Rakhi bring you untold joy and a stronger bond with your siblings and family. Wishing you a day filled with cheer, laughter, and memories. Happy Rakhi to all!