Rudraksha is a stone fruit — or dried stones — which are used for religious practices andprayers ,especially in Hindus. Let's underst and what a rudraksha is:
The number of lines on a rudraksha bead ranges from one to twenty-one (mukhi). Up to 108 mukhis were conceivable inancient times, and up to 30 mukhis are still available now.Eighty percent of all rudrakshas have four, five(mostfrequent), or six lines;single-line rudrakshasarethe rarest. Rudrakshas come in white,red,brown(themostpopular),yellow,and black,just like the Varnasystem.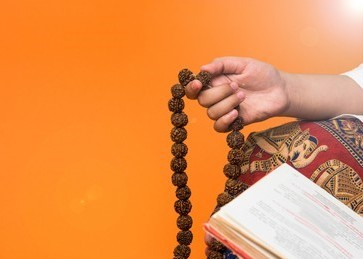 But contrary to what people believe,rudraksha is notjust used for the purpose of praying. It has many benefits, unknown to thepeople. Rudraksha beads are not just limited to their religious use.Its benefits have been proven to be scientifically accurate.
Some of them are listed below:
1. Heals the skin: The bead is quite efficient in providing relief from skin problems.Rudraksha beads can be used to treat issues such as itching, skin irritation, and wounds. Overnight, soak the bead ina copper kettle filled with water. On an empty stomach, drink a glass of water from the same pot the next morning.
2. Lightens scars:A paste of Rudrakshaand Tulsi can be applied on wounds and over scars for an her balway to heal them.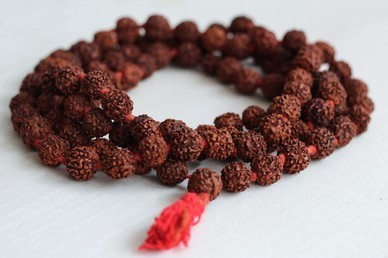 3. Curbs stress:Rudraksha bead aids in the resolution of curbing stress in our day today lives by balancing our bodies and providing a soothing effect on our hearts and senses
4. Dynamic polarity: Because of its Dynamic Polarity, Rudrakshabeads function like magnets. Due to its magnetic action, it clears any interferences and obstructions in our body circuits,such as closed/blocked arteries and veins,and makes the blood flow in our body smooth. It eliminates waste, discomfort, and sickness from the body and so has ananti-ageing effect.
5. Reduces toxic energy: When we are stressed, either physically or psychologically, our bodies produce extra energy, which, if not store dorburnt,causes problems in ourbodies,such as hyperten-sion,anxiety,an do there illnesses.Rudraksha beads help to calm this un welcome energy source, as well as enhance our neurologi-calsystemand balance thoseextra hormones.
Now that you know how beneficial rudraksha is, why don't you buy one of your own, and experience for yourself the magic of these little beads!
Website :- thewiseoak
Author:- Pooja Agarwal
Pooja Agarwal Shaikh is an award winning Holistic Healer who has helped over 1000 people across the globe, through her various successful speaking engagements, workshops and healing services. She is the founder of the Wise Oak.
The Wise Oak has been started with the sole intention to help people heal themselves with simple and effective self-healing tools with overall holistic approach. As a healer, she would help you to cleanse your stuck mindset with structured patterns and envisage with her curated services and well-designed workshops to heal you emotionally so that you can prosper and achieve the complete circle of life. She works with three core values – Trust, Intuitive wisdom and Compassion.
She is professionally trained as Master NLP Practitioner as is a licensed 'Heal Your Life® Workshop Leader'. She is also a Certified Success Trainer® & Certified Intuitive Tarot Healer. She can help YOU, activate inner healing to manifest more PEACE, LOVE, FREEDOM and JOY in your life.