Holistic approach to wellness:-
Many areas of our lives can be easily attributed to our professional success and subjective well-being, so it's important to consider the relationships between them.
For example, personal issues may occupy our mind while we're at work, leading to a loss in productivity and engagement—and possibly even job loss. Focusing on personal wellness and mending these issues can allow us to improve our performance at work. Similarly, stress at work can lead to irritability and the inability to focus. We can combat this through both emotional wellness—and learning to control our emotions—and physical wellness—such as going on a run to improve our mood.
We don't always have to be living in a holistic wellness state, but we do need to create awareness for ourselves to understand when we are in that state and when we are not. Tools like the self-care wheel can reveal areas for improvement in our lives. While it's common to focus on areas like physical or personal wellness, spiritual wellness is usually the least often discussed—through a crucial component of holistic wellness.
What is spiritual wellness?
Spiritual wellness involves finding your life's meaning and purpose and understanding the values, beliefs, and morals that guide your actions.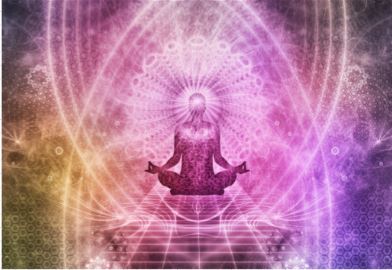 Why is spiritual wellness important?
Strengthen our relationships with others around us.
Breathe positivity into the spaces we occupy.
Impact our lives in a way that supports our life purpose and values.
Are mindful and at peace as we connect with others.
Are more likely to practice self-compassion, confidence, and resilience.
Are accountable and responsible for our own actions.
Based on the benefits listed above, we can enjoy a prosperous life. Being more connected to our life purpose and values grounds us into who we are as individuals. This grounding can manifest in a better relationship with ourselves and others around us. Gaining a deeper connection to self leads to increased self-awareness, which supports how we think and behave.
Slowing down and being mindful are benefits of spiritual wellness. Mindfulness supports us to be more present and focus on the moment. Mindfulness is a tool to practice our faith (our connection to The Divine) and helps us be more self-compassionate and better cope with adversities. Our choices in life are more resonant with who we are as individual humans and when we respond to any situation, we respond with less reactivity and more creativity.
What is spiritual fitness?
Embracing spiritual wellness practices in our life builds our spiritual fitness. Spiritual fitness is the overall health of our spirituality. It's a way of living according to what motivates us and engages us in life.
Activities to improve your spiritual wellness:-
Nature bathing: Spend some time in, and with, nature. Walk around your neighborhood or a nearby park, or go for a hike, as you breathe in the fresh air. Sit on the beach and dip your toes in the water. Get away for a weekend camping trip, and sleep under the stars.
Watch sunset or sunrise: These are some calming times that allow you to reflect on The Creator's creation and have an appreciation for the basics of life. Sunrise opens your body to start the day with calmness, and sunset completes your day with peace.
Self-reflection: Reflect on your day, week, month, or year. Reflection allows you to go deeper into yourself and allow the connection with your heart and soul. This can be powerful as you are searching for your life purpose, values, and faith. You may journal or record yourself on a video or audio and allow your thoughts and feelings out.
Practice mindfulness: Mindfulness opens the door to The Divine (God). It enables us to be more compassionate with ourselves and others, be more forgiving, and be more focused on the present moment. Try to practice for 5-10 minutes per day.
Incorporate prayers in your daily routine: You can use your faith to support your connection with The Divine (God). Please note that faith is not religion. Faith is a way of connecting with The Divine (God). Religion is the specific language used to communicate faith.
Volunteer: Support your community by volunteering your time to build a new home, sort out clothes for those in need, or pack food for the hungry. Getting involved in a project for the betterment of humanity strengthens your compassion for others and yourself.
Determine your life purpose and values:There are many resources that you can use to help you find your life purpose and values, including working with a professional coach.
Spiritual wellness is a part of balancing your life. When you take the time to care for your spiritual health as part of a holistic wellness approach, you can reach the promotion, delegate responsibilities, be an inclusive leader, and set up goals aligned with your new role with more ease. And you can live a meaningful life connected to your core values, beliefs, and morals.0